What are the bad digital content marketing habits and how to fight with them?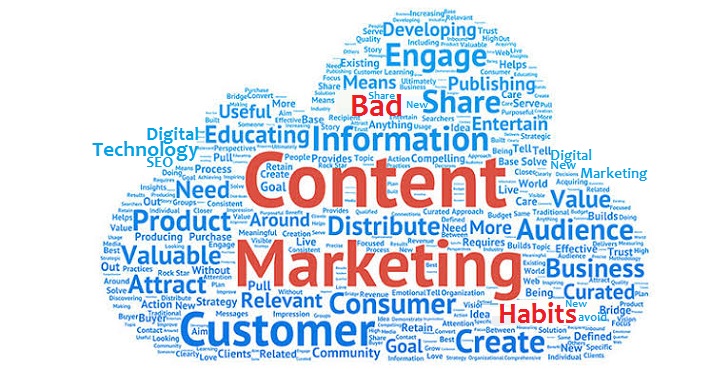 Content marketing has become a bandwagon for online marketers. It is the best platform for marketers to make their online business success with high ROI. But, not every marketer is successful in doing content marketing business, why? There are many companies, who would love to say that their content marketing is highly customized, but not everyone is hitting the mark. Those marketers who are not successful in achieving their goals in content marketing is because they might be following some bad habits that causing their brands to lose their way.
Are you too following the bad habits in content marketing? You don't know what bad habits am I talking about?
Just keep on reading this article as I am going to explain to you about which bad habit is being followed by you till now and how you can overcome them.
Let's get started now!
Some bad digital content marketing habits that you should avoid
– Repeating the same words again and again
We often do this mistake or I should say it has become our bad habit of repeating the same word over and over. By doing so your content might appear monotonous and non-appealing to your readers. Your readers will find your content more like humdrum while reading it and might lose interest in it.
– Keyword stuffing
Keywords are important for your content to get a high rank on search engine result pages (SERP) on Google, but it can go another way around. You didn't get my point? Let me tell you, you should not insert keywords in your writing, let them come naturally. Because if you try to insert irrelevant keywords in your content, there are chances your content might get blocked by Google.
– No proofreading
Although it's a major mistake we have made it our habit. Right? Proofreading is the important thing that we should do before publishing our content. Without proofreading your article, there are chances you might end up posting a content which is full of grammatical mistakes. And this is how your readers might make fun of you and not show interest in your contents.
– Talking too much about yourself or self-promotion
Content marketing is all about social interaction between you and your target audience. Don't just brag about your company's products or services rather tell your audience about the meaning behind your brand's existence.
– Running the same strategy forever
Content marketers make it a habit of running the same strategy for lifetime. Remaining stagnant in the market that is consistently changing doesn't make a sense. Running the same strategy for creating contents might not interest your readers. You need to develop some new and fresh contents such as surveys, videos or webinars.
Let's move further and discuss how you can fight with these bad habits.
Some tips to overcome content marketing bad habits!
– Focus on new strategies
Content marketing is all about bringing creativity in your writing and attract your customers via it. You need to keep focusing on new tactics to apply well in your content marketing strategy. If something new comes then do well with them and compare them with your current goals and decide whether it will help you achieve your goals or not.
– Focus on SEO part
Search engine optimization plays an amazing part in getting your website's rank higher in the search engine result page. If you produce quality contents, SEO will show it on Google's first page. So make sure you create contents which are qualitative and valuable.
– Use keyword research tools
You can use keyword research tools such as Google Adwords and SEMrush to conduct keyword research before you strike the keyboard. These SEO tools provide insight into your competitor's SEO strategies and your audience's search behavior.
– Create a unique content
To overcome one of your bad habits you need to create unique contents for your site and readers. Try to incorporate some new and trendy ideas in your contents and fill it with content headers, images, alt texts, etc. if search engine bots can't index you then your readers can't find you.
– Start proofreading your contents
Proofreading your content before publishing it is the most important thing in your content marketing. You can't just ignore it. Make sure you proofread your content before publishing it. It will help you check your mistakes in the contents.
– Use web-optimized Writing
Make sure your contents get a chance to shine on your site. For that, you need to stick with short paragraphs, use headers before each major point, so readers can scan quickly and see if they want to read further.
Conclusion!
Content marketing is a dynamic process in the digital marketing field. If you want to stay on top of things, you need to leave your bad habits that are becoming the hindrance in your content marketing. Just incorporate some of the tips that I have mentioned above to win the battle of content marketing. You need to find ways to check and improve your craft and writing strategy.
So take some time to evaluate which bad habit you are following in your content marketing and incorporate tips to avoid them. If you want to know more about anything else kindly get in touch with us.
---