Ways to optimize your website for Google discover.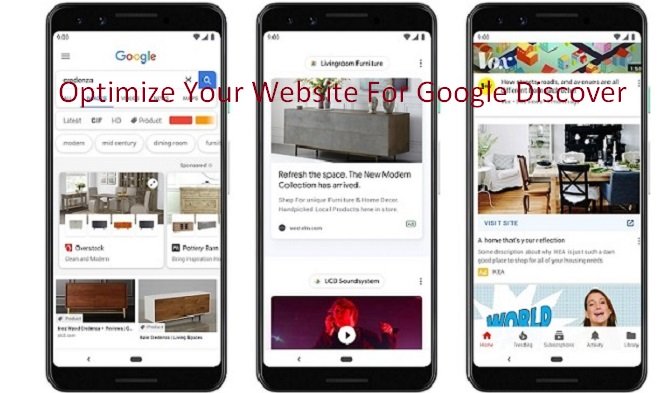 The aim of building a website is to provide relevant information to users. Some webmaster just build website and don't optimize it. Is it right way to run a site? Of course not, enhancing user's experience on site and providing them quality and trending topics before they search for it is only possible via Google Discover. Till now 800 million people have used Google Discover to provide information to customers about their brand, products, services, and trending topics of their interest. Using this feature doesn't make much difference folks, until and unless you optimize your website for Google Discover.
Therefore, if you're using Google Discover then you must learn the ways to optimize your site for it. Clear your concept first with Google Discover if you're not sure what exactly it is.
What is Google Discover?
Google Discover is a new featured name for Google Feed that was named in 2018. As the name itself suggests, improves the search engine discover experience of users across the globe. With Google Discover, you get information about your interests, like your favourite sports team, or news site, without even searching for them. Besides, it shows you content even if you don't enter a particular query for the search engine.
Wanna know how to optimize your website for Google Discover? Continue reading folks.
Major ways to optimize your website for Google Discover
Below given points will help you know how you can optimize your website for Google Discover. Let's read them below.
-Produce authentic, quality, and engaging contents
We all know the famous adage, "Content is King" this can only apply when you produce content which is relevant, informative, engaging, and quality driven. Focusing all these factors to create content will surely arise interest in your readers and they will keep themselves engaged with your contents. This way you will be able to enhance content quality. Also let me tell you that Google Discover Ranks Algorithmically on the basis of content quality and the strength of the match between page content and user interests", as per Google.
–Building trustworthy and reliable content
This point is different from the first one. When you produce content make sure your contents are relevant enough which can build the trust in your customers to rely on the information provided by you. According to Google, the more trustworthy your content is rated, the more likely it is to appear in Discover. If you want to build trust in Google's eyes, you must authorities your site and your authority comes from the quality content produced.
-Try to create new and evergreen content
Now you must be thinking that you produce new contents every time you write. But hold on folks, here the matter is different, here you need to keep yourself updated with the topics which you gonna write about and focus on creating a mix of content. As per Google, it will focus on both fresher, newsworthy content as well as evergreen content. Make sure to update your editorial content with evergreen pieces.
–Add images and video to get good rank in Google Discover
Nowadays, people like images and videos than reading a long irrelevant content. It's your duty to update your website with relevant images and videos so that people find it more engaging and entertaining. Google has also said that, users would be seeing more images and fresh visuals content in the Discover feed. It simply means, to optimize your website, your contents should be containing high quality images and videos.
–Optimized AMP (Accelerated Mobile Pages) pages
Gone are the days when people would use computer and laptop to have an access to any website. Now it's an era of smartphone and webmasters must enhance the mobile user experience while accessing your website. Having AMP pages is important for optimizing your website for mobile users. Here main focus is in AMP pages is only because, Google Discover opens web pages on mobile, having AMP pages only ensures that mobile users are having great experience.
–Don't over optimize your website
This is a big mistake that every webmaster commits. In hope to effectively optimizing their site, they end up over optimizing it which eventually spoils the user experience. Therefore, you no need to add special tags or structured data that might cross the line of optimizing your website. Just focus on improving the quality for your content and don't perform additional irrelevant activities.
Concluding remarks…
The task of every webmaster is to enhance the user experience and it is only possible if you optimize your website by implementing the techniques which I have discussed in this article. Optimizing your site for Google Discover can mean a lot for SEO and enhance the overall your site performance. At last, I just want to tell all the brands out there that if you want to optimize your site for Google Discover then your focus must be more on producing quality, authentic and relevant contents.
kindly comment to let us know how you find this article. For more informative articles get in touch with us till then keep reading
---