Top 5 reasons why your business needs "Live Chat"?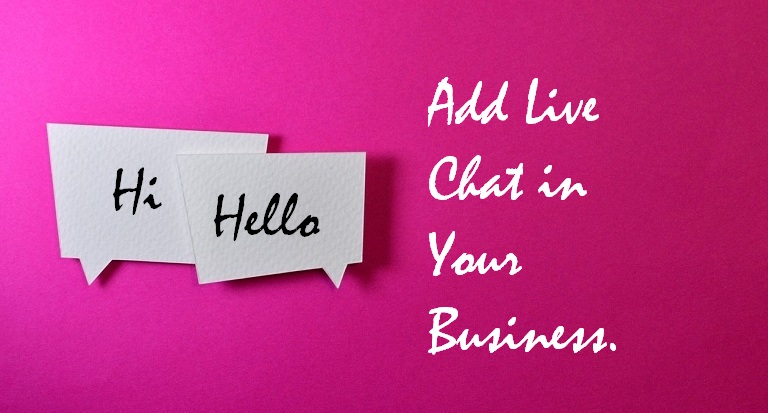 Chatting is one of the crucial factors of any business. Without establishing effective communication, you can't generate sales leads. Many businesses communicate via WhatsApp, Facebook Messenger, and many other apps. But the problem here is that customers don't get an instant replay to their question or query. Today, every customer wants a fast and instant reply from the marketer. Without any doubt, live chat is one such feature that every business should in their marketing strategy. Live chat is a platform that allows you to talk directly to your website visitors in real-time.
I am sure there would be many digital marketers who would be thinking live chat is not that worth investing in. If you are also thinking so then here are 5 significant reasons that you should read to know why your business needs a live chat.
Let's jump in now.
The top 5 reasons to add live chat in your business
#1. Providing fast response in real time
So the first reason you should look over here is a fast response in real-time you provide through live chat. Yes guys, as I told you that no one can wait when asking about product details. People want to get an immediate response back. Therefore, the biggest advantage of live chat is that it can help you support by providing your customers fast and instant responses in real-time. In fact, using phone call support is frustrating sometimes. Basically, there are some reasons why people don't like call support. Here these are:
Around 67% of people hang-up call in frustration when they are not able to reach out to a real person.
72% of people tend to hang up the call when they reach an automated or recorded phone line.
And 75% of people think that it is difficult to reach a human being.
On the contrary, live chat is more of a modern instant messaging application so a customer is able to quickly connect to a chat operator and solve a problem.
#2. Increase in sales leads
The next reason you have on the list is an increase in sales leads. Yes, it is true if you incorporate live chat feature in your business, you will see growth in sales leads in less time. The American Marketing Association discovers that live chats increase conversions by 20% and increase the chances of a sale by three times. Undoubtedly, live chat allows for a more personal, instant interaction between business and consumer. It actually brings more positive feelings and confidence in consumers to purchase your products.
Moreover, a survey from eMarketer found that 38% of consumers said that they went through with the purchase because of the chat session. Therefore, adding live chat option can help you engage with customers, and website visitors.
#3. You build long-term relationships
Another reason or you can say the advantage of using live chat in business is building long-term relationships. Every satisfied or long-term customer is likely to come back to business and tend to be less price-sensitive. According to experts, customers who feel taken care of are less concerned about what they are paying. In addition, 63% of customers who have purchased using live chat tend to come back rather than the ones who don't. It is also because when customers feel that their voice is heard and they chat with the person from the company itself, they build a more strong relationship with the business. Thereby, these customers share their positive experience with other people and this is how a long term relationship they build with the business.
#4. You get competitive advantage
The fourth reason for adding live chat in business is that you get a competitive advantage among your competitors. I would say this is one of the most crucial reasons to add a live chat feature in your business. Today, business rivalry is getting increased a lot. There is no doubt that every small, medium and large businesses are trying to provide better customer support. Big companies like Apple, Virgin Airlines, SKY, and many more are using live chat to be one step ahead of the competition. However, it doesn't matter what niche you work in, being ahead of your competitors must be your first priority. Nowadays, there is so much competition in the offline and online market, and the customer only prefers the company that provides them better customer support and service. I believe, live chat is one such service that customers enjoy and love a lot.
#5. Live chat saves you money
So the last reason for including live chat in your business is money. Yes guys, if you add live chat option you will end up saving a huge amount of money because it is a cost-efficient method. How does it exactly work? Firstly, phone calls can be costly sometimes, and live chat can enable an individual to handle multiple customers at once rather than just one phone call. To handle live chat, fewer members are required which means customer service staff can be decreased to a minimum.
For instance, if an agent can handle 3 live chats at once, that actually increases your customer service by 300%. The majority of customers will have their questions or queries answered at the same time with the lower expense of your company. Thereby, it reduces overall helpdesk center costs by lowering the waiting queue time.
Over to you!
Finally, we have come to the end of this article. Guys, I have explained all the 5 major reasons to include live chat options in your business. I would say adding live chat in your business brings more advantages rather than the reasons mentioned above. Yes, it is because live chat can encourage customers to stay on your site. It also increases the chances that they will purchase your items again. So try to utilize live chat as much as you can in your business and get the desired results.
Comment below to let us know how you find this article. For more interesting articles subscribe our website and keep yourself updated.
---