Top 10 blogging sites to write a blog
Writing has become a great profession for those who love to write and want to make a good earning. Every writer wants to show their writing skills to connect to the audience worldwide. The struggle here is that writers don't find the right platform to blog because there are plenty of blogging sites available in the market which makes it difficult to choose one from.
Before I proceed further let me ask you –do you have a passion for blogging? Or are you planning to start a blog but have no clear idea which blogging site to use? If your answer is 'Yes' then this article is for you.
In this guide, I will share the top 10 blogging sites for content writers or digital marketers where they can write blogs on any topic of their choice.
So let's jump into the pool of blogging sites list below.
Top 10 famous blogging sites for you to start blogging
1. Blogger.com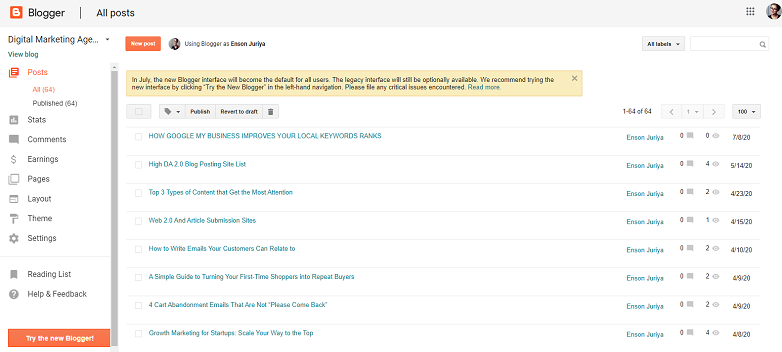 Everything in this article is about blogging then why not keep Blogger.com site in the first place of the list. Blogger is a very renowned platform launched back in 1999. This is a completely free blogging site and specially designed for those who want a free blog to test their writing skills. The blogger is very simple to use the site because you no need to learn coding or technical language to use this. Moreover, there is no hosting site you need to start it. The only thing you need is to log in to Google account to start this blog. It is because Google purchased blogging in 2003.
Key Attributes
Simple templates to use in which you get background images and flexible layouts
Free or custom domain. You get a free subdomain (blogspot.com) or you can also buy your own custom domain.
You get blog analytics to access your blog traffic to see which content gets the most visits.
Integrate the site with Google AdSense to monetize it.
Price
The blogger is completely free site. But if you want custom domain then you have to pay for it.
2. WordPress.com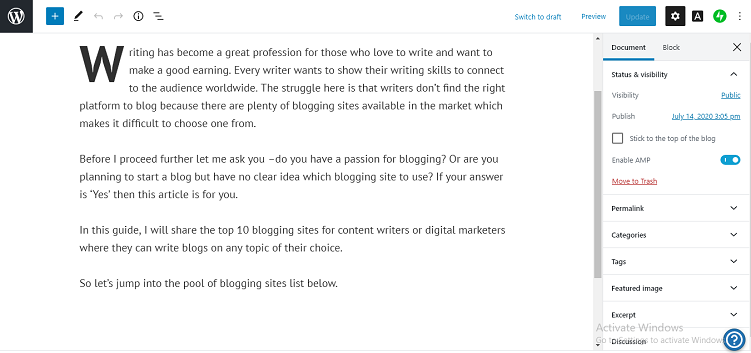 WordPress is another free blogging platform. This is a self-hosted platform. Today, WordPress powers 34% of websites on the internet. If you see sites on Google then most of the commercial sites are based on WordPress. The site does offer the free trial but if you want to avail features then you have to pay for it. To start blogging here, you need to learn coding and technical language. This platform is best for those who want to establish a commercial website.
Key Attributes
The custom domain is free for one year (other features are available for paid plans)
Provides you mobile-responsive blog sites.
Give you analytics on your blog traffic.
Provides you option to integrate images and videos with the drag and drop button.
Its comprehensive SEO tool helps readers find you easily.
Price
The free plan gives you limited features and subdomain only. However, the personal plan is for $4/month, a premium plan for $8/month, a business plan for $25/month, and an e-commerce plan for $45/month.
3. Medium.com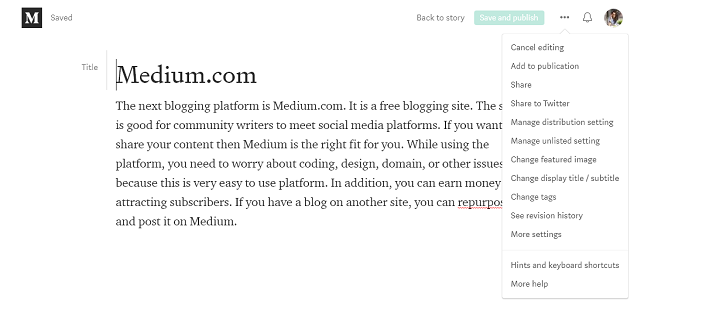 The next blogging platform is Medium.com. It is a free blogging site. The site is good for community writers to meet social media platforms. If you want to share your content then Medium is the right fit for you. While using the platform, you need to worry about coding, design, domain, or other issues because this is very easy to use platform. In addition, you can earn money by attracting subscribers. If you have a blog on another site, you can repurpose it and post it on Medium.
Key Attributes
A free app you can access on your mobile devices from anywhere.
Helps you in social media integration to fetch you a wider audience.
You earn money when people read your content.
You get access to vast audiences worldwide to convert those readers to potential audiences.
Price
A free plan with unlimited public stories and membership plan is for $5/month for unlimited public and exclusive stories.
4. Tumblr.com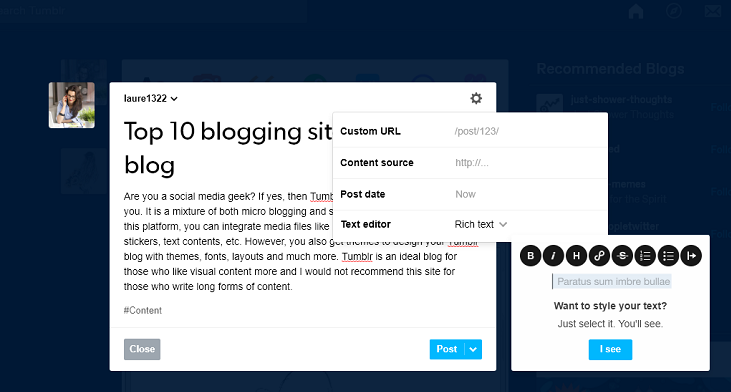 Are you a social media geek? If yes, then Tumblr is a great blogging platform for you. It is a mixture of both microblogging and social media platform. Through this platform, you can integrate media files like photos, videos, audio files, stickers, text contents, etc. However, you also get themes to design your Tumblr blog with themes, fonts, layouts and much more. Tumblr is an ideal blog for those who like visual content more and I would not recommend this site for those who write long forms of content.
Key Attributes
Password protected blogging site.
You need to choose a custom domain containing 64 characters or less.
You can share your content on social media platforms.
Posts are collected in the form of a ZIP file to export.
Price
Tumblr is a free blogging platform. You just get a subdomain blog that is yourblogname.tumblr.com.
5. Weebly.com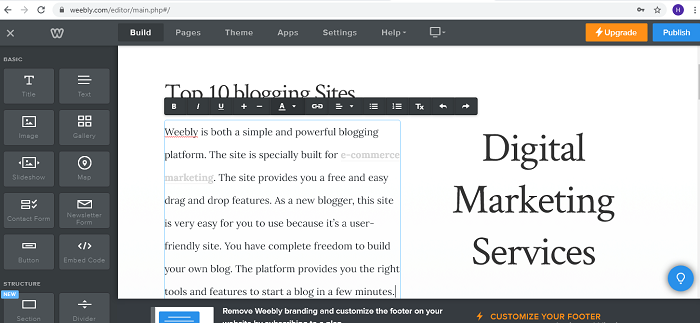 Weebly is both a simple and powerful blogging platform. The site is specially built for e-commerce marketing. The site provides you a free and easy drag and drop features. As a new blogger, this site is very easy for you to use because it's a user-friendly site. You have complete freedom to build your own blog. The platform provides you the right tools and features to start a blog in a few minutes.
Key Attributes
Provides you free personalized templates.
SEO tools to rank your site on Google's SERP.
Weebly integration with social media sites to share your blog posts.
You get media management to collect images to create your own galleries.
Price
It is a free site but the premium plan allows you to unlock more features. The pro plan you get for $12/month and business plan for $25/month.
6. Squarespace.com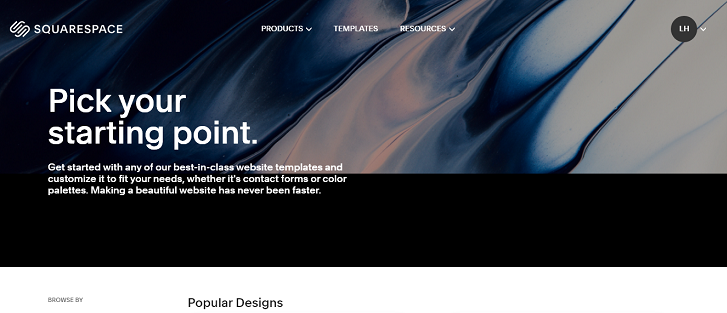 If you want to start your own website then Squarespace is for you. It provides you everything to build, run, and grow a blog. You get quality templates and minimal layout that give your blog a unique look. Moreover, the platform offers you marketing tools that help you access a wider audience for your blog. Squarespace also offers webinars and tutorials for those who are new to the blogging world.
Key Attributes
A mobile responsive and mobile-friendly site.
You get the integration of marketing tools to promote blogs on marketing channels.
Each template design you get with customizable layout books.
Expert design templates.
Price
The site is free for 14 days trail. Personal plan is for $12/month and business for $18/month.
7. Wix.com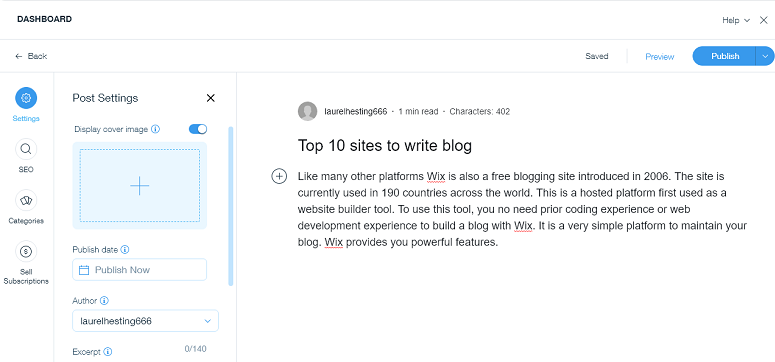 Like many other platforms Wix is also a free blogging site introduced in 2006. The site is currently used in 190 countries across the world. This is a hosted platform first used as a website builder tool. To use this tool, you no need prior coding experience or web development experience to build a blog with Wix. It is a very simple platform to maintain your blog. Wix provides you powerful features.
Key Attributes
Freedom to design with drag and drop features.
You get third party integration without coding skills.
Comprehensive site builder to maintain all your blogs in one place.
Provides you customizable templates.
Price
The site is free with a subdomain. Combo plan offers at $8.50/month. Unlimited plan for $23.50/month. Business plan for $17/month.
8. Ghost.org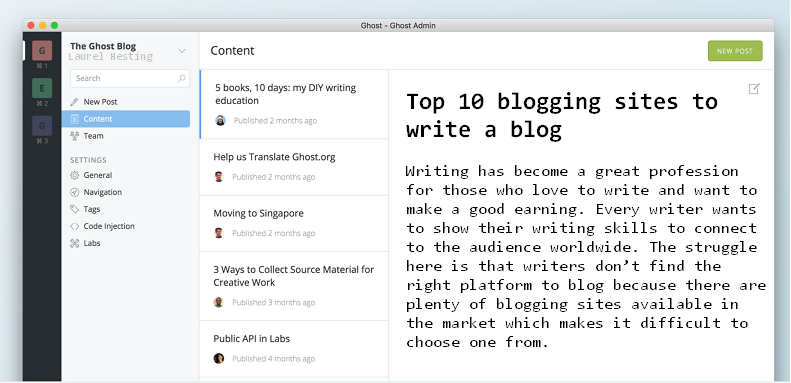 Ghost.org is an alternative platform for WordPress.com. This platform is best for journalists, writers, and editors. The ghost platform was launched in 2013. The platform is absolutely easy because you no need to follow any rules. The platform enables you to target audience through email newsletters and make money from your written content via Ghost's premium plans. You can also add functionality to your blog with modern technology.
Key Attributes
You get simple templates to build your blogs.
Posts scheduling. You can also create an editorial calendar to stay ahead of time.
With automatic breakups, you will not lose data with off-site location breakups.
Site editor to edit existing media files and content.
Price
The platform offers you 14 days free trial. The basic plan starts at $29/month, standard plan at $79/month, and business plan $199/month.
9. Joomla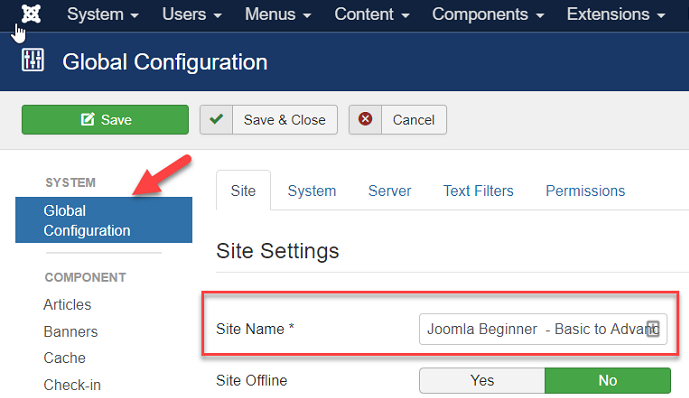 Joomla is a free blogging site like WordPress. This is the most popular blogging site in the world and powers around 58 million websites. The platform might not suit beginners because it requires a bit more technical knowledge. Therefore, the site is not ideal for someone looking for a very easy non-technical platform. The starting name of Joomla was Mambo and Joomla officially launched in 2005.
Key Attributes
Joomla provides multilingual support without adding any additional plugins.
Customization and flexible features to grow your blog.
It provides you with e-commerce extensions like Eshop and J2Store through which you can set up shopping carts and add products.
Price
Joomla is a free and open-source application that provides no enterprise pricing.
10. Postach.io

The last blogging platform is Postach.io. This platform is powered by Evernote which enables you to convert your notes into blogs. To use this platform =, you need to register a new account. First, you need to install Evernote then integrate it with Postach.io to connect your notes. In fact, this is a convenient way to enter the world of blogging. You can also create a free blog with this platform.
Key Attributes
Allows you to add visual content to personalize your blog.
You can add pictures to engage your readers.
You can optimize your site with a paid custom domain.
With site editor, customize your blog site via a robust dashboard.
Price
You can use it for free trail first then use plans for $5 or $50 per year.
To sum up
Blogging is a dream of millions of people. To pursue this dream, you have to use a blogging platform from the above list. Whatever experience you have in blogging or knowledge you have, you can choose the blogging site accordingly. Through this article, I have informed every detail of all the famous blogging sites. Now the ball is in your court, so take a wise decision.
For more interesting articles subscribe our website, till then keep reading and keep sharing.
---