SpyFu vs SEMrush, Which one is right for you?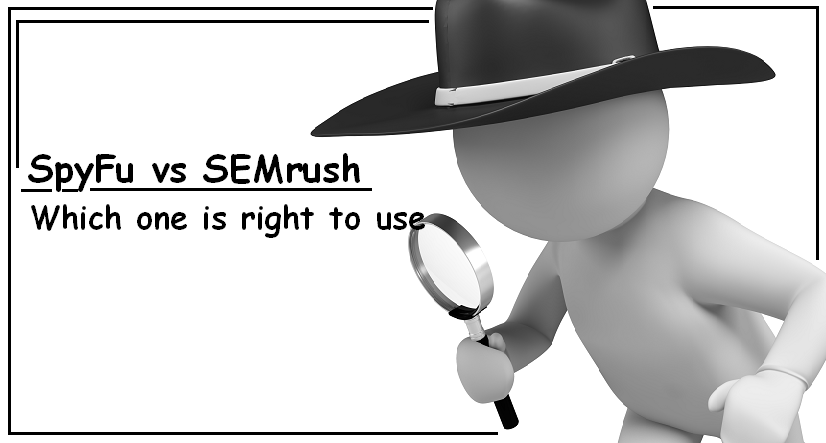 Are you in trouble finding out between the right SEO tool between SpyFu and SEMrush? If yes, then you have landed in the right place. In this article, I will provide you a detailed analysis of both the tools. It will help you decide which tool is better suited for competitor analysis.
Before I start the comparison I assume that you are already aware of both the tools as both are competitor research tools in the market. I will make everything simpler here for you to decide which best suitable tool is for you. The condition is – continue reading the article until the end.
Let's dig below.
First read out the definition of both the tools below.
What is SpyFu?
Simply put, SpyFu is a great SEO tool that you can use to 'spy' on your competitor's keywords as the name itself says SpyFu. You can also use this tool to search for any domain. With SpyFu, you can easily find highly profitable and low hanging keywords to increase your website and search rankings. Moreover, you can also see which ranking the competitor's keywords are ranking.
What is SEMrush?
SEMrush, on the other hand, is all in one SEO toolkit which any digital marketer can use for competitive search analysis. Irrespective of your industry type, you can use SEMrush data to easily analyze your competitors and further use that data to your advantage. No doubt, SEMrush claimed to be the biggest helpful SEO toolkit for all kinds of bloggers for doing competitor's research.
Let's dig deeper and see the complete comparison between these two tools below.
Detailed comparison between SpyFu and SEMrush tools
1. Ease of use
SpyFu
This is a great tool. When it comes to the usability of the tool it seems that SpuFu doesn't have many tutorials and resources that you can follow to use this tool. The resources you will get are limited which might make it less easy to use tools.
SEMrush
If you look at the usability of SEmrush then it is much better than SpyFu. You will see everything organized in the tool which makes it really easy to navigate once you start using it. There are many guides and tutorials available for this tool.
2. Competitive analysis
SpyFu
The tool is made to spy on your competitors. Just your domain name and find your closest competitors instantly. You can also check the competitor's biggest keywords for organic SEO as well as for Google Ads. It will also provide you an estimate on your competitor's ad budgets. You also get a complete history of your competitor's rankings and backlinks.
SEMrush
This tool provides you all the competitive analysis for the entire competitor's top pages, keywords for advertising, and all the backlinks they currently have, etc. You can also get to see the inside look of their advertisement campaign from day one. No doubt, SEMrush provides you big time elite competitive analysis tool.
3. Keyword research
SpyFu
If you want to get keywords from the scratch then SpyFu is a great analysis tool for you. This tool keeps things simpler with a single seed keyword. All you need is one keyword just to get started. The data you get here about the keywords are sourced from Google and other credible sources.
SEMrush
This tool is a little bit annoying when it comes to keyword analysis. As you need to make a list of competitors to conduct keyword research. However, it does generate a massive list of related keywords with metrics like search volume, keyword difficulty, and much more. Still, the keyword difficulty score is much better than the SpyFu tool.
4. Backlink Analysis
SpyFu
For backlink analysis, the tool provides a traditional method against competitors. First, you need to enter the keyword you want to rank for. It will then analyze all the top pages ranking for them and then checks backlinks profiles. In addition, SpyFu focuses more on quality than quantity. However, the backlink database of SpyFu is smaller than your competitors.
SEMrush
The way you make a keyword list of competitors, the same way you also make backlink lists. Let me also tell you that SEMrush can automatically make a list of your competitors for you. Moreover, the tool only shows a portion of all the backlinks your competitors have. SEMrush is great if you compare it with SpyFu but it is bad simultaneously.
5. Pricing
SpyFu
The price of the SpyFu tool starts at just $39 per month. However, the set of features you get are limited. Moreover, you will get a decent number of tools and unlimited data for each. This makes an interesting deal for all of you.
SEMrush
No doubt, the tool is relatively expensive among all the tools for beginners. The plan starts at $99 per month. You don't get access to historical data here. As a medium-sized business, the tool is great for you and you do get what you pay for.
Final words on SpyFu vs SEMrush
So what's your decision guys? Let me tell you that the choice entirely depends upon your specifications and requirements. If you have a tight budget then SpyFu is great for you otherwise you can go with SEMrush. Guys, both the tools are great as you can read the comparison again. If you want me to recommend then I will suggest go with the SpyFu tool if you are a small-scale business. SEMrush is good for large scale businesses. In the end, the choice is yours to make a wise one. Also, let us know which tool you are going to use first.
Comment below to let us know how you find this article. For more informative articles subscribe our website till then keep reading.
---