Sometimes Digital Marketing Fails, Why?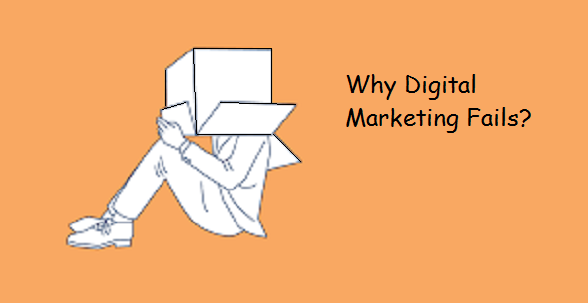 "Marketing is no longer about the stuff that you make, but about the stories, you tell." In the era of digitization, digital marketing has played a vital role in making a business successful. If we look at the statics then the most common digital marketing channels businesses use are social media marketing (81%), website (78%), and email marketing (69%). So it's clearly visible that almost all companies are shifting their marketing budget towards digital marketing as their customers increasingly move online and away from traditional media like newspaper, TV, radio, etc.
Nevertheless, just being on social media has not worked for companies to achieve their digital marketing goals. Why? Because social media is just a core element of marketing but what is essential in digital marketing. A thoroughly developed digital marketing strategy is an indispensable part of a successful business. Companies with a poor marketing strategy face difficulties maintaining their relationship with the existing customers, as well as attracting new ones.
However, a poor strategy is just one part of a coin there are many common digital marketing mistakes made by companies. I am going to highlight these common mistakes that cause digital marketing to fail.
Here are the reasons why digital marking fails?
– Inadequate digital marketing planning
Social media plays a great role in the overall digital marketing space. Therefore, your digital marketing methods should be well integrated within your social media marketing plans. It should be measurable and adaptable too.
– No understanding of the target audience
Without knowing your target audience, you can't do well in digital marketing. To know your audience you need to keep on checking the information about them such as social media groups, googling specific keywords, late at night by the audience, etc.
– Broadcasting instead of engaging
Many digital marketers broadcast about their brand products but they forget to engage themselves with the audience. However, digital marketing should be seen as an opportunity to engage with people. You can use your digital marketing to start a conversation with them and gather feedback.
– Using too many digital channels
Using many digital channels to market products is good. Sometimes many channels become hard to handle rather use that channel which is most important to your customers. This is how the channel will reflect the quality of your brand.
– Not utilizing metrics for measuring success
Your goals and metrics need to be realistic and attainable to measure your success. Be specific in your metrics and goals. This can be a strong ground for your successful digital marketing campaign. If you haven't followed this process, you may need to re-examine your goals and success metrics.
– No uniformity in messaging
There are companies who take a thousand words to explain themselves, while others rely on stylish slogans and images. You need to find out the right keywords to associate with your company then write the shortest description possible. Make sure your message is appealing to the audience.
To sum up, the right digital marketing strategy is essential for any Marketer to achieve the goal. You should always follow the key points that I have mentioned above. These will give you detail to make a difference in your business. Once you get to know your weak points, you will learn how to accomplish your marketing goals. You will be ahead of your competitors and ensure prosperity for your digital marketing business.  
You need to avoid the reasons which I mentioned above to achieve the goal and get success. For more updates and interesting articles get in touch with us.
---