Some important strategies to use Audience Insight Tool For Facebook.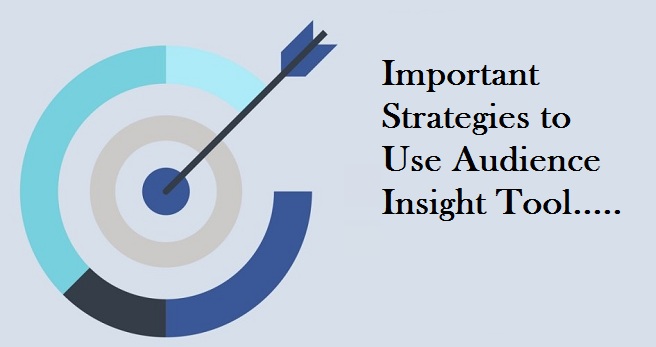 For every marketer, social media is the biggest tool to interact with their audience. It gives brands the ability to directly contact their audience/customers. The social media giant Facebook is the channel through which you can interact with your audience and create content to meet their specific needs and interests. On Facebook you can access millions of people at a time, but how will you come to know that you're reaching the right audience? For that, Guys you need to dig deeper to have knowledge not just about gender and age of your followers, but also need to have detailed insights like job titles, hobbies, and relationship status.
This is only possible if you review Facebook Audience Insights and the huge amount of user data that social media offers to you. In case, you don't know what Facebook Audience Insights tool is then you're at the right place. This article will help you know everything about this tool and how you can use it to reach the right audience. Let's get started now.
What Facebook Audience Insight (FAI) Tool is?
As you already know that Facebook Audience Insight is a tool that Facebook offers to you to know the right and better understand your Facebook audience for your brand. It is the most powerful analytical tool which is free to use and provides you demographics and behavioral data about your audience and that of your competitors.
Why the tool is created for the advertisers? This tool is created to enable advertisers to target their ads more efficiently and learn about them even if they are not advertising. You will see the holistic growth in your Facebook marketing stagey. Now let's see what type of information Facebook Audience Insight Tool provides to you. Basically, the tool shows the aggregate information for the three groups:
People connected to your Page
People in your Custom Audience
People on Facebook
All the above points will help you produce more meaningful content to target your audience.
Time to learn how to use this tool-
Major strategies to follow to use the Facebook Audience Insight tool
– Choose the right audience you want insight for
The first step is to open the FAI dashboard where you will see multiple options to select the audience. You will see three options:
Everyone on Facebook – here you will learn how you can attract new people on Facebook.
People connected to your page – learn about your existing audience and create better content only for them.
Custom Audience – for this option, you must have to create a custom audience then only will be able to select this option otherwise not.
I just you to go with the first option i.e. Everyone on Facebook so that you can target a major audience.
– Create your target audience demographics
After selecting the right audience, now you need to gain insights for your targeted audience. Here, you have to select the demographics on the left side and you will see the demographics such as location, gender, age, interests, etc. you have to choose accordingly. Let me tell you one thing, the more detail you add, the smaller your audience becomes and the more focused your ad can be. Make your circle authentic.
– Examine your audience interests, their likes, and dislike
Now that you're done with your audience demographics, it's time to learn what they really like. For that, you need to click on the Page Like tab, and then observe the Top Categories (Eats, charity, more eats, books, art, movies, magazines, live music, and organic groceries) and Page Likes (here you will see two options 'relevancy' and 'affinity') Facebook defines 'Relevancy' as "The Pages that are the most likely to be relevant to your audiences based on affinity, Page size, and the number of people in your audience who already like that Page." And 'Affinity' as "How likely your audience is to like a given page compared to everyone on Facebook."
– Find location and language details
It's time to learn what languages people speak and where they live for the products you sell. When you click on the Location Tab, you will see details for Top Cities, Top Countries, and Top Languages are spoken for your target audience. This is the best for your online business as it tells you where to sell and which language to give importance more.
– Track activities and device details
Here you will learn how people behave on Facebook and the devices they use to do it. Click on the Activity tab and see how they interact with Facebook pages. You can also note the devices they use in the Device User Panel. You have to notice the primary devices that your audiences use.
– Now you can create an ad for your target audience
This is the last stage where you finally create an ad for your targeted audience. Here first save your audience then open the saved audience then click the green create ad button finally follow the steps to create your ad on Facebook. With this last option, you're done with the ad creation process.
The bottom line!
Facebook Audience Insight is one of the best tools that give you access to your targeted audience and create relevant ads for them. It also provides you more valuable behavioral data, demographics and lets you learn about your potential audience with the information they have provided on Facebook. I hope, this article was informative in providing the best strategy to follow to use the Facebook Audience Insight tool.
Make sure you follow the right approach to get the best for your marketing business. For more info or any kind of guidance kindly get in touch with us.
---