How Quora Marketing Will Generate Lead For Your Business?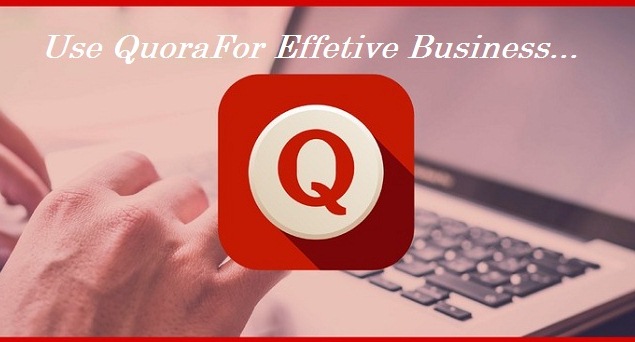 Doing any business is easy but generating its leads become a little tough. What do you say? Many people or businesses use social media platform such as Facebook, Twitter, Instagram, etc. to promote their products in the market. But only a few are able to avail these platforms particularly. As with the growing technology, people too shifting their preferences and changing their social platforms to generate leads.
Can't find a concrete channel to get or generate leads, yet?
If you are aware then you might know Quora is an eye-catching social media platform these days. And everyone is jumping in the bandwagon (using quora) as it can also help businesses to generate their leads. Quora is proved to be a great networking site with more than 40 million users across the world. But how Quora can help in marketing? You would be thinking about this, right? Through this article, you will know how Quora marketing can be beneficial for your business to generate leads.
I am going to highlight some points below that will help you to know how Quora marketing can generate a lead for your business.
Various Ways to Generate Leads Through Quora Marketing.
– Optimization of profile
If you want to generate leads for your business make sure that you have a solid profile. Because first thing users do after getting a good answer from a contributor, is to check his/her profile, so try to optimize your profile to get traffic to your website.
– Search and Track everything
Tracking is very crucial to the success of your strategy. As it becomes important for any business owner or marketer if he is operating online to keep tracking which day he gets the lead generation more and release your answers on those days.
– Make your habit to post regularly
To get more traffic to your business website, it's important for you to answer the minimum 9-10 question per week. If your answers are valuable, then soon you will be recognized as the most viewed writer.
– Attract attention
It simply means to stand out of the crowd. If you want to become a well-known influencer, you need to fight for visibility. As there is an old adage "The easiest way to get someone's attention is to break a pattern".
– Be controversial
Being controversial doesn't mean you always pinpoint someone. It simply means being honest in your opinion, idea or judgments that will influence people to connect with you.
– Use color full images
If you consistently posting reading material on Quora then there are chances that people will soon get bored. So it's better if you use some eye-catching images to bring their attention back to you.
In a nutshell, these above tips will surely help you to generate traffic and leads for your business on Quora, if one follows properly.
For any kind of query kindly get in touch with us.
---