How can I monetize my Podcast?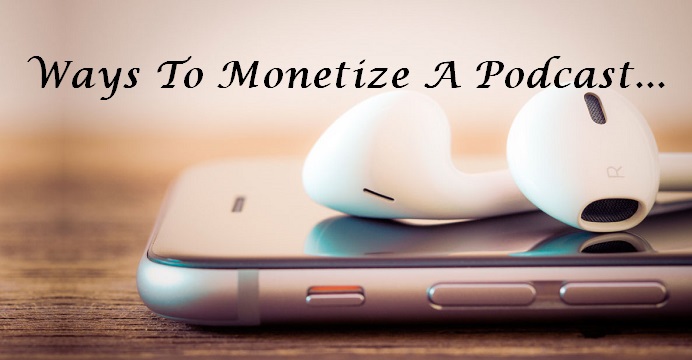 No matter how much you're curious about podcasting or what brought you to this field. But the question that arises here is – how much money one can earn in podcasting? The podcast can earn you great revenue only if done perfectly. Today, podcasting is becoming a significant platform to build a great relationship with the audience. If you look at the present scenario, then more and more people are inclined towards podcasts to enjoy the talk show, audio, video etc.
According to Forbes, there are now over 80,000 active podcasts with over 54 million podcast episodes currently available worldwide.
Therefore, to build a powerful presence of your podcasting in digital marketing, you must follow some of the ways to monetize your podcast. Below you will find the ways, have a look.
Learn the ways to monetize your podcast
– Monetize your podcast through sponsors
The sponsor is the most recognized way to make money from. No matter which business you're running or promoting, you can always ask people to sponsor your business. If you want a sponsor for your show, you need to find one that shows interest in your podcast and helps you engage with your audience. Moreover, one of the cool ways to deal with sponsors is to search for promo codes. This way you can get discounts from a variety of companies. You can go with smaller or local companies to talk about the ways they can benefit you by supporting your podcast.
– Podcasters get paid from Affiliate income
In case you don't know about affiliate – it is the process of promoting a product, service, or company to your own audience. And you're paid when a certain product for a per transaction. Therefore, if you think you have a wider audience then you can always prefer affiliate marketing. It will always earn you a good income. If you want to earn income then you have to become a good affiliate. So to build up a good relationship with the company you must ensure some factors like trust, reliability and transparency.
– Ask listener for donation
The most fascinating way to monetize your show is from your listeners. You can always ask your audience to donate some of the money for your campaign. I'm sure there are plenty of customers that are happy to donate a few dollars to their favorite podcasters to ensure they continue to get great content. But how do you actually ask for a donation? Folks, you can add a PayPal button or open a Stripe Account and add a donation form to your site. However, you need to tell your audience why you're asking for donation then only you will be paid.
– Advertise your podcasting 
Advertising has always been a great way to earn you a good amount. Podcasting is also becoming a part of advertising. How do you actually advertise your podcasting? There are many new tools that are making podcast advertising more accessible to all podcasters. For instance, Podbean's Ads Marketplace helps podcasts of all sizes connect with advertisers. According to statistics, podcasts listeners are less likely to skip ads and are likely to take action on ads they hear on a podcast. This makes podcasts ad a powerful tool for sponsors.
– Earn money by selling ticket to live shows
Live shows, events and consorts are the most effective ways to earn money from. If you think people like your podcasting a lot then you can always organize an event. When you organize a show, you can sell your tickets to people. Your audience will surely buy a ticket if they like your podcasting. One such podcast show is Pod Save America. So what are you waiting for?  Plan an event or a show to engage with your audience live.
Monetize the way you want for your podcasting
The above 5 ways are the most effective ones you can always implement in your podcasting strategy. Once you follow the approach, you will be surely able to monetize your podcast. However, there are many more ways to get income from but the above-mentioned the best tactics to follow. Podcasting is the most innovative, unique, and effective way to engage with the audience in online marketing. So get started with podcasting and its monetize methods!
So, make use of the listed ways of monetization for podcast in your digital marketing and see the wonder it does for your business's growth. For more informative articles get in touch with us.
---