How Buffer is different from Canva?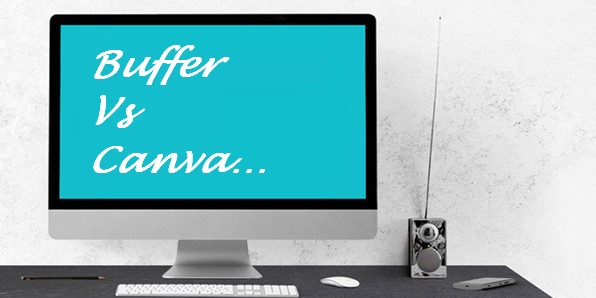 When it comes to social media marketing the one thing strikes in our mind is –organization of posts, banners and ads on social media platforms. It becomes hard to handle the entire thing on our own and that too without taking the help of any tool. Therefore, when it comes to social media marketing, Canva and Buffer tools are considered the most by marketers. Both tools are good for creating posts, ad banners, logo presentations, infographics, stories etc. However, one question came in mind that if both the tools are the same then what's the difference between these two?
Guys, in this article, I will explain how Buffer is different from Canva tool. Let's start with the definition first.
What is Canva?
Canva is an app for businesses to manage your social media posts. It is actually a useful tool to create content easily and quickly. People having little and no graphic design skills can easily use this tool. If you want to make your social media posts full of designs then this is the best tool for you. Canva allows you a wide range of graphics like Facebook posts, Twitter posts, email headers, infographic posters etc.
What is Buffer?
Buffer is one of the best social media management tools. It is best for its cost. This tool is best for small marketing teams and businesses. Buffer helps you manage for scheduling your social media in advance and keeps your Facebook, Twitter, and Instagram accounts thriving. The main function of a buffer is to hold data for other processes to access.
Let's examine the features of Canva and Buffer below.
Features of Canva
Free icons
Photo enhancer
Photo frames
Image transparency tool
Photo blur
8,000 templates
Photo straightener
Speech bubble maker
Add texture
Stickers
Design grids
Features of Buffer
Multiple posts and tweets
Customized scheduling
Team collaboration
Social profile sharing
iOS and Android support
informative social analytics
Multi-media format sharing
Profile management
Profile buffering
RSS feed connectivity
Agency/Business planning
2-step account login
Let's see what's free in Canva and Buffer
Canva: Up to 10 members for free
Buffer: It is free for individual
Canva: Access to over 8,000 templates
Buffer: 10 schedule post per social accounts
Canva: 1GB storage for photos and assets
Buffer: Browser Extension
Canva: Two folders to organize design
Buffer: Pablo image creator
Now move further and talk about pros and cons of Canva and Buffer:
Pros of Canva
Canva provides an archive of social media posts. You can use this to display templates, testimonials, sales alerts, or new products.
You also get hundreds of designer template ideas. The tool is good to make your posts look professional.
Here you can also quickly edit your posts. You get a design editor that is very simple and easy to use. Therefore, you no need to be familiar with Photoshop, InDesign, or other programs, because Canva makes editing pretty easy.
The Canva has a gallery of templates to create business stationery like internal memos, business cards, and letterheads.
Cons of Canva
No matter how much versatile tool Canva is, but it doesn't allow you to import any fonts.
For a professional designer, Canva needs advanced features to make the workflow much easier.
The pros of Buffer
Buffer has a pretty robust analytics section of the site that allows users to see details about their posts. This educates users about social media posts, planning, and strategy.
Another pro of Buffer is that it is a very cost-effective tool. Any small marketer can use this tool for their social media management.
Buffer saves your time. It means Buffer optimizes your posts in less time. Here you save a lot of time for you and your business.
The cons of Buffer
When it comes to Facebook and LinkedIn then Buffer doesn't link to these social media platforms. It is literally annoying but you can fix it.
If you want to see likes, shares, and comments, then you have no access in Buffer. Here you need upgrading premium and business plan to look at the analysis.
The final part!
Guys, I have explained each and everything about both the tools Canva and Buffer. Both these tools are of great use and can help you manage your social media marketing. Since you have read the definition, features and pros and cons of Canva and Buffer, I hope now you know how Buffer is different from Canva. Use this article as a guide so that you can better understand which tool you can use for managing your social media posts.
For more informative articles get in touch with us till then keep reading and keep sharing.
---