Healthy tips for post-pandemic marketing?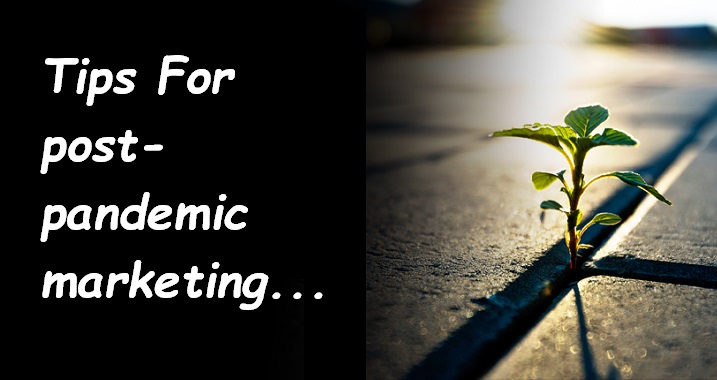 You might be seeing a lot of content talking about handling business during the COVID-19 pandemic. I have also talked about the tips to grow your business in this pandemic in my previous articles. But today, the topic is very beneficial for all the marketers and businesses who want to re-start their business after COVID-19 pandemic. We have seen how much loss marketers have faced due to coronavirus, therefore, to re-establish the business I have come up with this article.
So without wasting further time, let me list down the important tips for you to apply for post-pandemic marketing. Let's dig into the list below.
The healthy tips for post COVID-19 pandemic marketing
Make sure you read each and every point thoroughly to get most out of it.
#Redefine your business goals
Whatever your business goal is right now will not work in the future. The present goal of your business you might have created keeping the pandemic in mind. However, this will not work in the future. Therefore, it is a great time for you to think about your future business goals. Ask yourself – what you want to achieve and how you get it. Examine the goals of your business whether you want short-term, medium-term, and long-term goals.
#Redesign your website
Are you happy with the website you're operating now? Your site is the biggest factor in fetching customers for your business in this digitized world. Whatever design website you're operating doesn't matter, but when you talk about post-pandemic marketing strategy then you have to think another way around. There are an abundance of website designs you will find on the internet such as WordPress, Squarespace etc.
#Invest in social media
Today, the power lies in social media platforms like Facebook, Instagram, YouTube, LinkedIn, Twitter and TikTok. You might be using any of these platforms to enhance your brand's visibility worldwide. But for post-pandemic marketing, you need to pay extra attention to social media platforms. Try to grow the list of your followers, do live campaigns, interact, and engage with them as much as you can. Social media is a great platform to build your digital marketing business in the long run.
#Search Engine Optimization (SEO)
Suppose, people are searching a particular term related to your business and they don't find it then you will lose much traffic to your site. Here comes SEO, it helps you appear on the very first page of Google's search engine results page. When you invest in SEO, people will likely to visit your site more than any other. You just need to follow the SEO process significantly. Don't follow the black hat SEO technique otherwise Google will penalize your website.
#Learn about your competitors
Don't do a mistake that your competitors will not do anything to grow their business after the post-pandemic crisis. Like the way, you're planning to strategize your business the same way your competitors will be doing. Therefore, you need to keep an eye on them so that you get to know their present and future step for marketing. In case you don't know who your competitors are then pick a search term that people use to find your business online. You can search it on Google, Bing, or whatever search engine you use. Then see the rank of your business on Google and the business with the same term.
#Train yourself
You might be busy in your present business but you should always keep learning the newer ticks and tactics to implement in your business. The more you learn about things, the much better your business becomes. You can attend formal online training and gain an additional qualification related to your business. This is a good time to learn online.
Closing words
The COVID-19 pandemic has literally destroyed the lives of people and their business completely. Still, people are combatting the situation and seeing the little progress in their business. But this should not happen in the future with any marketer. Therefore, you should have a plan B in your mind. I have explained the best tips for you to follow for your post-pandemic marketing.
I hope you will follow the tactics and build your business effectively. For more useful articles get in touch with us, till then keep reading and keep sharing.
---