Google's Page Experience Update 2021: Everything you need to know
You all know that Google makes thousands of updates in its algorithm every year, right. In May 2021, Google introduced an update called 'Page Experience Update." Though the update was about to roll out in May 2021 but to give more time to webmasters and SEO professionals to prepare, Google delayed the update. And the burning news here is that Google is going to roll out the Page Experience update this month (mid of June). If you see the entire web world is filled with this news only. But what exactly the update is all about, no one has a proper idea about it yet.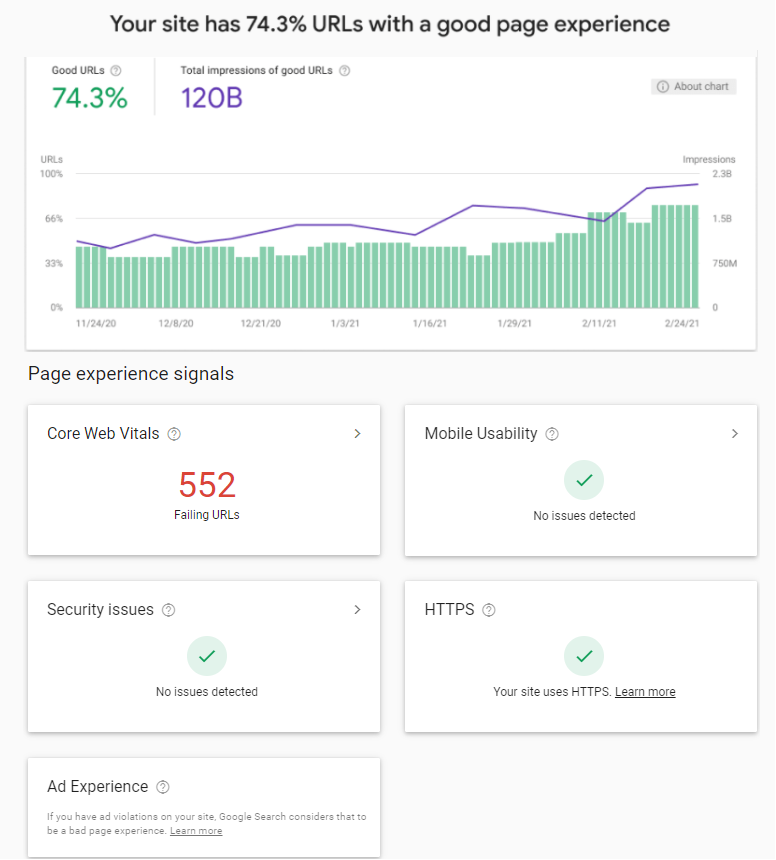 If you're also puzzling, you have come to the right place. Why? Because this article is a complete guide on Page Experience Update. Let's start and take a close look at the update. Also, don't skip the article in middle otherwise you'll miss the important information.
What do you understand by Page Experience Update (PEU)?
Simply put, a Page Experience Update is a set of ranking signals by Google that inform Google Search algorithm about website performance. The set of ranking signals include: optimal website speed, its performance, usability, the website should run on HTTPS, should have friendliness.
On what basis page experience is made up of? There are several existing Google search ranking factors that determine the page experience which include:
– Mobile-friendly update
– HTTPS ranking boost
– Page speed update
– Safe browsing penalty
– Intrusive interstitials penalty
– Page and website usability
Core Web Vitals: how it is connected with page experience update?
To determine the quality of the website, Google integrates Core Web Vitals with Page Experience update. There are refine metrics which fall under Core Web Vitals and the performance of any website will be checked based on these vitals. Let's have a look at the refinements (you can also call metrics) which come under core web vitals:
# Largest Contentful Paint (LCP) – This metric measures the loading performance. The good LCP should occur within 2.5 seconds to provide a goods user experience.
# First Input Delay (FID) – This metric talks about the interactivity of the website. The pages of the website should have an FID of less than 100 milliseconds. This way it provides a great user experience.
# Cumulative Layout Shift (CLS) – Through this metric, you can measure the visual stability of the website. To maintain the visual stability of the website, your website should have a CLS of less than 0.1.
With these Core Web Vital metrics, you're able to improve your overall website performance and provide a great user experience at the end.
New Page Experience Report in Google Search Console is live now
Being a webmaster, you can look at the page experience report in the Google Search Console tool. The report also combines the Core Web Vital report with other page experience signals that determine the good page experience in Google Search Console. These signals include:
* Mobile usability – Your website URL shouldn't have any mobile usability errors for having good status on the web.
* HTTPS usage – HTTPS sites are usually safe and secured and provide good page experience status for users. Therefore, you have to sure that your site URL is HTTPS and not HTTP.
* Security Issue – If there is any security issue found on your website, it will disqualify all URLs on the site from a Good status.
* Ad Experience – Your site should not contain ads that are interrupting, distracting, and don't provide relevant details to your site visitors. In any case, if your site ad is marked as red-flagged, then all pages on your site will be regarded as having a bad page experience.
These are some of the signals which ensure your website performance. And on the basis of these factors, the Page Experience Report will measure the percentage of URLs on your website. So, you have to focus on these signals and work on them to provide a good page experience to your site visitors.
Will Page Experience Update affect your website ranking?
Many of you would be having this question in mind, right. Let me tell you one thing – that whenever Google introduces an algorithm update, it surely affects your website ranking on SERP. You get to see changes in traffic, website ranking, and SEO performance. Likewise, Page Experience update does affect your website. Let's understand how.
These few points will help you know the impact Page Experience update on your website:
– If a website doesn't meet new page experience update requirements then the speed of the website will likely decrease.
– Now webmasters may not be able to get more organic traffic to their websites as earlier.
– You may not be able to win the top Google position until the identified issue is solved.
– If you fail to improve site performance, you gonna face a drastic loss in organic search traffic.
– You may also face loss in sales leads and conversion rate.
– Due to PEU, your site may get a penalty from Google.
So, guys, these are some of the issue you might get to face with this update if you don't abide by all the rules.
Are you worried about the update? You don't know how to tackle this update? To save yourself from the drastic impact of the Page Experience Update, just keep reading below.
How to Prepare and Optimize your Page Experience Update?
Now that you have read everything about Page Experience Update and what possible impacts you get to see from this, it's time to prepare for the update. And how do you do that? The Core Web Vitals report in Google Search Console is one of the best ways to get a sense of your website performance.
Follow the given tips to optimize your Page Experience update:
Guys, below I'm going to talk about some of the points that will help you monitor, measure, and optimize your page experience. Just read them below.
– Use tools to measure and report Core Web Vitals. The tools include PageSpeed Insight, Search Console, Lighthouse, Web Vital Extension, and Chrome UX report. These tools help you measure FID, CLS, and LCP.
– Now examine whether your website is mobile-friendly or not. (Do Mobile-Friendly test)
– Check whether your website has any safe-browsing issues. Here you can use the security issue report and check.
– Look at the site connection of your website. Make sure it is secured with an HTTPS URL.
– Ensure that your website content or pages are easily accessible.
– Finally, you can review your Core Web Vitals and Page Experience.
Let's sum it all up
Should you worry about Page Experience Update? Not at all. This article provided you every minute detail on this update. Though the update hasn't come out, it will roll out in the mid of June. So, you have time to enhance the performance of your website by following all the essentials tips that are required in this update. I have talked about everything here – starting from defining the concept of Page Experience update to tips to optimize your website for this update. I hope you found this article helpful.
To read more informative articles on Google updates, just subscribe to our website and stay updated with us.
---