Google Vs. yahoo, Which One is Best?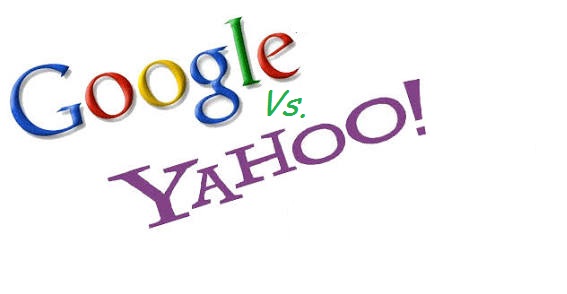 In the past couple of years, Google (launched in 1998) and Yahoo (launched in 1995) have played a crucial role in the digital world. It's not an unknown fact that both sites are competing to provide a wide variety of services to users. As every search engine is doing a great job and they all are related to each other. There are different search engines such as Google, Yahoo, Bing, Ask.com, AOL.com, Baidu, DuckDuckGo, etc. But I am going to highlight or compare between Google and Yahoo particularly.
So let's get started!
Google vs. Yahoo, Comparison!
Google and Yahoo both are most used search engines with the highest market penetration and both play a major role in the computer software industry too. Today, they both have diversified into other services and both have been using the same technology, each provides different information. But both Google and Yahoo are different in their features, tools and even search results as each company provide very different users experience. For example- Yahoo provides news on its front page while Google doesn't. Let's see more difference between these two.
Search Engines
Both Google and Yahoo use a special set of instructions called algorithms. The algorithm is the most important aspect of any search engine and is kept secret. But Google algorithm is known to be better than Yahoo. This is because it favors quality content over well-established links and pages, unlike Yahoo which still prefers old and well- established websites.
Different Search Results
Google and Yahoo not only find web pages but display the search result often. Both rank the pages according to the information they contain and a user is searching for. Page ranking is important as most user wants to find information as quickly as possible and want to look in the first page of the results. Though Google and Yahoo index and search the same sites. However, Google provides users reliable and relevant results and offers users quick results, Yahoo's homepage holds more attraction for its users with the array of interactive features such as news, sports, finance, weather, etc. And users find it easy to access the information and connect to the world.
Difference in Design
Here design doesn't me the outer appearance but the type of information you find on each site. Let's take an example, if a user searches a popular actor or singer, Yahoo will provide information with videos of the searched person at the top of the page whereas Google will simply provide the normal search result or same kind of results.
Tools and Features
Google and Yahoo both offer a variety of special tools and features to its users. Google offers 'Maps' tool which allows users to find any address and even to zoom to the street level and see the actual picture of most streets whereas Yahoo offers a 'hotel finding tool' that allows users to see the hotel availability and rates. Both Google and Yahoo offer shopping tools that help users to compare the prices of items at multiple retail outlets. But both companies are constantly adding and updating features. 
Thus, Both Google and Yahoo offer a variety of features, services, different ranking system and algorithm. Even though Google has created a huge brand name, Yahoo is not far behind. And this doesn't mean too that one is better than other. If you look at the present scenario then you will see that most of the young people do prefer Google, and people who are above age 45 still seem to stick to Yahoo.
So now you need to decide based on which search engine serves your purpose and goals the best. For more updates and interesting articles get in touch with us, till then keep reading.
---