Google My Business Adds Donation & Gift Card Links for local listing.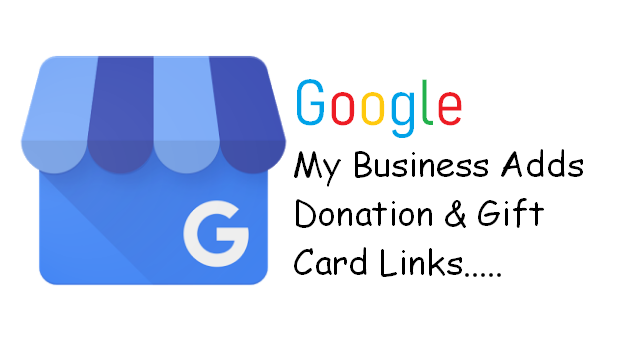 Are you struggling to run your small business during COVID-19 lockdown? If yes then you're at the right place. In this article, you will learn how you can save your business. Before I start anything, let's get into the nitty-gritty of the COVID-19 matter below.
The present situation is as critical as it could be. The COVID-19 has literally devastated the small and medium-sized businesses. There is no increased sales volume, no traffic, and no rank of a website, nothing they're getting. Now businesses are experiencing a huge loss and reduction in their sales. Therefore, to tackle this situation, Google recently rolled out a new feature that allows businesses to add donation and gift card links directly to their business profile on Search and on Maps.
Ready to know?
Google My Business adds a new feature: Donation & Gift Card Links
Recently, Google adds a new feature of gift & donation in Google My Business listing. This is Google's initiative that will help businesses to offer extra support during the crisis. The business owners will now be able to add links to campaigns, asking the consumers for gift-card purchases and donations, to these public business listings.
Google's announcement on this feature, "with this feature, merchants will be able to add a donation link, gift card link, or both to their profile. They can also share a personal message in their post to inform customers how funds will be put to use."
How donation & gift card link will work?
Gift card link: You can allow people to purchase gift cards for your business. These links can go to a supported provider or a page on your website. Furthermore, Google has integrated with Square, Toast, Clover, and Vagaro. If a business doesn't have a dedicated page of gifts or offering, they can sign up with any of Google's partners.
Donation links: In the second feature, you're required to send customers to a fundraising page where they can donate to the user's business. In addition, Google has partnered with PayPal and GoFundMe, to allow businesses to accept donations via their GMB listings.
As per Google, both these links can only go to a supported provider and will be visible to consumers later this month.
According to Google, this feature is currently available to businesses in the United States, Canada, United Kingdom, Ireland, Australia, and New Zealand.
What businesses are able to display gift cards or donation links?
The new feature is great in itself because it will help many small businesses raise finally even in this pandemic. And the chances are that people will surely misuse this feature. Therefore, as usual Google carries out some measures or eligibility criteria to check. These include:
Your business should be verified before March 1, 2020
Businesses must have a physical forefront.
A business should have a specific location as Google mentioned.
Site managers and owners of the business profile can use the post features to add a gift card and donation links.
How you can set up a gift and donation campaign?
Google says that if you want to utilize this feature, first you need to create your own gift card or donation page. Hence, to set up a gift card or donation campaign:
On your desktop, first, sign in to Google My Business.
If you have multiple locations, open the location you want to manage.
Now from the menu, click 'Posts' and choose "COVID-19 support."
Alternatively, click "Get support from customers" directly on Google My Business home page.
Next, you need to enter a message to customers and at least one link.
Finally, to save your changes, click Post.
With all the steps, you will be able to set up your gift and donation campaign.
Important tips from Google for a successful campaign
Once you set up a gift and donation links, businesses can add a personal message to inform customers what their financial support will go towards. Therefore, Google offers you the following suggestions when producing a personal message:
– Be focused and specific
You need to clearly mention as to what kind of support you want: a gift card purchase, a donation, or you need both. For example, Please donate to feed hungry in this pandemic.
– Be personal and positive
In this pandemic, you need to connect with your customers and wish them very well. Show your positivity that you are always ready to serve and to do so you need them.
– Be brief
Whatever you are selling or offering, make sure your message length is between 250-300 characters. However, the maximum character can count up to 500. Don't make lenghty and boring messages, visitors will ignore it.
Putting it all together!
Finally, guys you got to know Google's new feature for people who are seeing a loss in their business especially small scale and medium-sized businesses. This is a good step for you because you can save your business in this epidemic. Furthermore, if your business is listed in GMB before March then only you can avail of this feature otherwise not. It simply means new GMB users can't avail of this feature.
So take advantage of this amazing feature and save your business. Till then get in touch with us for more updates.
---