Google has upgraded the Google Ads Editor to version 1.3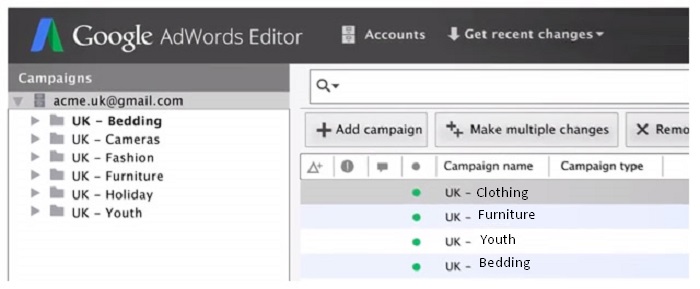 For every Google ads operator, I have good news for you all. You all will be happy to know that recently Google has updated the Google Ads Editor to a latest version 1.3. Google Ads Editor is a tool that allows you to manage your large set of accounts. With this tool, you can make bulk changes in your account and copy bulk campaigns from one account to another. This is basically the old version of Google ads editor which offers you the features. However, the latest updated version 1.3 has so much to offer that will enhance your overall experience while using it. Guys, Google has introduced some new features and some features are updated so we will read them one by one below.
Are you all ready to know the features introduced in Google Ads Editor? Here you go!
The NEW features introduced in Google Ads Editor
– Optimization Score
Optimization score is a value in which you can examine how your ad campaigns are set to perform. Google ads editor in the edit section of customer ID shows you combine score known as optimization score. As an individual, you can see your separate optimization score for your ad campaign.
– Open Edit Pane in New Window
In this new update, you can open a separate edit window named 'edit selected campaigns.' Here you can resize or position the window the way you like or want to see. With this feature, you can see more columns at once in the separate window.
– Hide Sections that don't apply to selections in edit panel
This new feature of Google ads editor allows you to hide sections that don't apply to the current selections. For instance, the App Setting, section on the campaign view will not be visible if the selection doesn't have any ad campaigns. Furthermore, the video setting will not be visible if the selection doesn't have any video campaigns. This change makes the panel easier to navigate and reduce scrolling.
– Add accounts, campaigns, and ad groups to account tree
Here you can add the accounts you can manage, campaigns, and ad groups to your account tree. Follow the process below.
First go to accounts, campaigns and check the box next to one or more rows in the main data table.
Now click right to select the copy selection to tree view.
Finally, you can see the main items from these rows along with their parent campaigns in the account tree.
– Jump to the first error, warning, and info
This new feature in Google ads editor lets you know many icons which will take you to the first error, warning, or info based on the items you clicked.
Now look at the UPDATED features of Google ads editor version 1.3
– HTML5 fields in App install ads
Earlier, Google ads editor didn't support HTML5 but now it can support. Now you no need to upload the asset manually on the front end like before. You can now easily upload HTML5 files effectively.
– Shared budgets
Like HTML5, a shared budget is also fully supported in Google ads editor now. Finally, you can create, edit, delete or switch campaigns from one shared budget to another.
– Discovery carousel ads
Now discovery carousel ads are also fully supported in Google ads editor. You can create carousel ads to make your ad campaign worth noticing.
– Call to action fields for bumper and non-skippable ads
With this update, you will be able to find fields for CTA and headlines on Bumper and non-skippable video ads.
– Easy to target CPA with 'pay for conversions'
Yes folks, now it's easy to target CPA with pay for the conversion. If your account is set up for conversions tracking, the bidding for new display or smart display campaigns will automatically set to target CPA. However, you can still change the bid strategy later.
Final words
Folks, the updates and new features Google introduced in Google Ads editor are worth making your ad campaign an effective one. With the latest version 1.3, you are able to create and edit shared budgets from your shared library. Through the optimization score, you can improve the performance of your campaigns. Eventually, you will be able to see where and what changes you need to make in your ad campaign to make it a successful one.
So embrace these new changes in Google ads editor and create a worthy ad campaign. Till then get in touch with us for more updates.
---