Google Ads Launched a New Report Named Ad Destination Report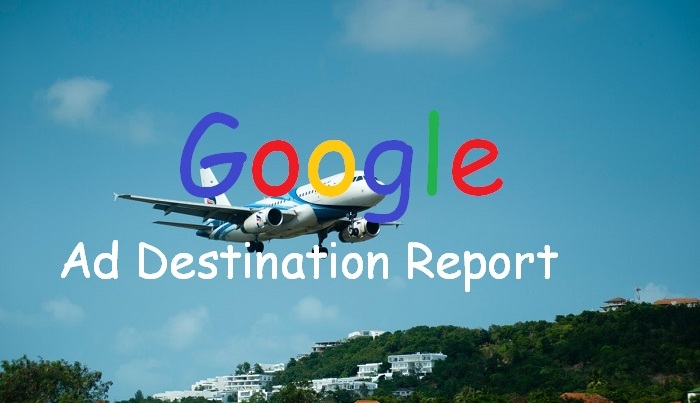 The only reason why digital marketers choose to advertise on Google Ads is to attract a lot of audience and potential customers. Do you agree? Guys, advertising anything about your products on Google ads and still you are not able to convert people into potential customers, then what's the point of advertising at all? This becomes an obstacle for marketers. But let me tell you that Google ads is a robust platform that always tries to boost its users experience by adding new features and updates in it. Did you get the hint what I am trying to tell you here? Guys, recently Google ads launched a new report called ad destination for marketers to keep an eye on their customer conversion.
If you also use Google Ads then this article is only for you. I will talk everything about newly launched ad destination report in Google ads here.
Are you gear up to learn? If yes, let's make a start below.
Google launched a new Ads Destination Report in Google Ads
About two days ago, Google launched a new report known. This ad destination report will help advertisers see which conversions came from clicks to the app versus clicks to the website. In the official announcement, Google said this new report will help you understand "how your customers convert" on your website. Moreover, advertiser can also see if customers landed on the business profile on Google Search, or got directions to a physical store prior to a conversion.
Let's dig deeper and understand what exactly ad destination report is.
What is ad destination report in Google Ads?
The ad in Google Ads is a report that provides you insights related to people who later convert into your potential customers. The report helps advertisers to know what makes people convert into conversions. Earlier, advertisers were not able to know what makes their audiences convert into customers. But now, with the introduction of ad destination report, it has become easy for digital marketers to know what path leads to a conversion.
Where you can find ad destination report in Google Ads? You can find the ad destination report as a segmentation in your reporting tables. Therefore, you no need to go here and there to see where the ad destination is launched.
How helpful the ad destination report is for advertisers?
Now that you know the definition of ad destination, I guess you know little bit as how helpful the report is for you. Still, I will give you some synopsis on it. Let's see.
With the ad destination, you can easily see which conversions came from clicks to your app versus clicks to your website. The official words of Google, "this makes it easy for you to understand where your customers engage with you most–and how to increase that engagement. In addition, you'll see if customers landed on your Business Profile or got directions to your store prior to a conversion."
After reading Google's statement, you can see how easy it has become for advertisers to know where they are getting customers from. No doubt, the customer journey is more complex than ever, marketers don't know exactly which path leads to a conversion. Moreover, it also makes it difficult to measure and optimize performance. Especially when you have an app and a website. This is the only reason why Google introduced the ad destination report.
Let's understand ad destination with Google's example
Google gave an example to describe ad destination report is – "let's say you're a retail advertiser with both an app and a website. With the ad destination, you may see that people who have your app are more likely to buy than those that visit your website alone. If those visitors do convert at a higher rate, you may want to focus on building more engaging features in your app. This insight can also inform your marketing strategy–like leading you to run campaigns that drive app installs."
Are you not curious to get started with ad destination report? If yes, just read below.
Start using ad destination report with conversion tracking
In very simple words, Conversion tracking is a free tool that shows you what happens after a customer interact with your ad. No matter whether they purchased your product, signed up for your newsletter, downloaded your app, or anything. Whenever customer completes an action that according to you are valuable, these customers are known as conversions.
With conversion tracking, you can track the details on given insights:
– Website action
You get to know the purchases, sign ups, and other valuable actions that customers complete on your website.
– App installs and in-app actions
Any install of your Android or iOS mobile apps, and purchases or other activities within those apps.
– Local action
Whenever people interact with your ads specific to a physical location or store, actions done on those ads will be counted.
– Phone calls
Getting calls directly from your ads, calls to a phone number on your website, and click on a phone number on your website.
The bottom line
The newly added ad destination report in Google ads is a great launch for advertisers. Through this report, you can get to know how your audiences are converting into leads. I have discussed everything about ad destination in this article. You can start using it with a conversion tracking tool that you can find in Google Ads itself.
For more updates subscribe our website, till then keep reading and keep sharing.
---