DuckDuck Go tops the list of most renowned alternative Search Engine in EU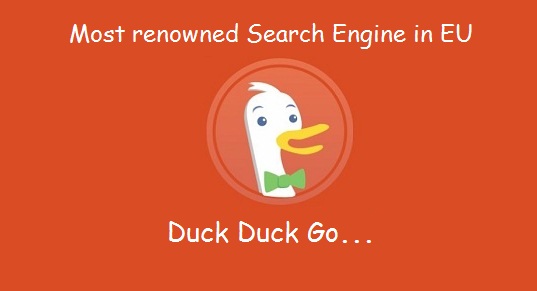 Google, a tech search giant has been replaced by an alternative called 'Duck Duck Go' search engine of Google. Did you find it shocking? It is shocking for me as well because we all consider Google as the "best or widely used" search engine giant in the world. And it is also a fact that Google has the absolute ability to answer billions of web queries faster with relevant results compared to any of its rivals. However, now the rival of Google is available in the market and you know it very well. Yes, guys, Duck Duck Go begs the first position of the most popular alternative browser especially in European Union Countries (EUC).
Are you all gear up to know more about Duck Duck Go? How it received the highest votes? What all are its features? Well, there is no shortcut if you want to know the answer to these questions then you must read the article till the end. I'm sure this article will help you a lot gaining knowledge of the DuckDuck Go search engine. Without wasting time let get started now!
Duck Duck Go becomes the most popular Search Engine in EU.
Do you know how it received the highest votes? Last year, Google held an auction for Android users and asked them to search for an alternative search engine. During the process, search giant offered a variety of search engine options to its users and after the record of the choices, search giant declared that DuckDuck Go emerged as the most popular alternative search giant amongst Android users in the European Union (EU) Countries.
Other search engines like Microsoft Bing (the search engine didn't even appear in the top three in any of the EU countries except the UK) topped the list in the United Kingdom (UK) and will appear there only whereas DuckDuck Go (begged the first position) and Info.Com (grabbed the second spot) have won the Google slot in every EU countries.
Let's know why Duck Duck Go is being the dominating search engine
Now you know that Duck Duck Go is also like Google which is a Search Engine. But it is completely different from Google. How? Both Google and Duck Duck Go provides the search results of people but Duck Duck Go is more advanced because not only it gives search results but focuses on the privacy of users. Duck Duck Go is privacy-centric search engine.
Unlike Google, DuckDuck Go doesn't track its users or their IP address, nor does it try to take advantage of the search history of users. In other words, it doesn't have any personal data to sell like Google, that's why here marketer or a website remains in the dark about user's preferences based on ads. It doesn't send search terms in any way to other websites.
Privacy is the only reason why Duck Duck Go is being dominated and demanding search engines and becomes the more viable option than Google especially for people who value their privacy above faster search results.
Twitter CEO Jack Dorsey also prefers DDG over Google
It's true that not everyone ends up relying on Google as their default search engine and it is proved by Twitter CEO Jack Dorsey. Last year in the month of November, he switched to more privacy-centric Duck Duck Go as his default search engine and also praised a "rival" of Google search.
Dorsey tweeted, "I love @DuckDuck Go. My default search engine for a while now. The app is even better!"
Let me tell you Duck Duck Go was founded in 2008 which claims to not to store any personal information of its users. On its website homepage, it clearly states, "Our privacy is simple: we don't collect or share any of your personal information." Last year in October, the company tweeted about the number of searches it hits in a day, "It took us seven years to reach 10 million private searches in one day, then another two years to hit 20 million, and now less than a year later we're at 30 million!"
Some points to be remembered about Duck Duck Go
Duck Duck Go doesn't use your IP address or search criteria for tracking purposes.
It also doesn't create a "filter bubble" by personalizing results.
Duck Duck Go supports and uses open-source code in many cases, which helps improve security and transparency.
It is famous because of the popular tagline it has, "The search engine doesn't track you."
Track Results!
There is no doubt that Duck Duck Go is a privacy-centric browser and we know that privacy is most important for everyone. And this is the reason why it got the highest vote in the auction and became the popular rival of Google. Google has a weakness in privacy which Duck Duck Go attacks. Indeed, it describes itself as "the internet privacy company" where Google is sheer "the internet advertising company."
Folks, the choice is all yours whether you want to continue your search with Google or switch to the new search engine Duck Duck Go. For more interesting articles get in touch with us.
---