Clickbait can work for your business, shocking but true
We often get tricked by clickbait headlines. Isn't it? Certainly, clickbait headlines are eye catching that attracts the attention of users and enable them to click on it. What generally happens is that clickbait is misleading and often redirect to the fake news or advertisement. Moreover, the copy that is used in clickbait is often deceptive and is a form of false advertisement. As a digital marketer, if you are following this wrong approach then it might scale down your business reputation. Undoubtedly, marketers have followed this approach in so wrong way that it has become notorious in digital marketing. That's the reason why readers don't click on such headlines that contain any kind of fake advertisement ultimately clickbait doesn't work for businesses.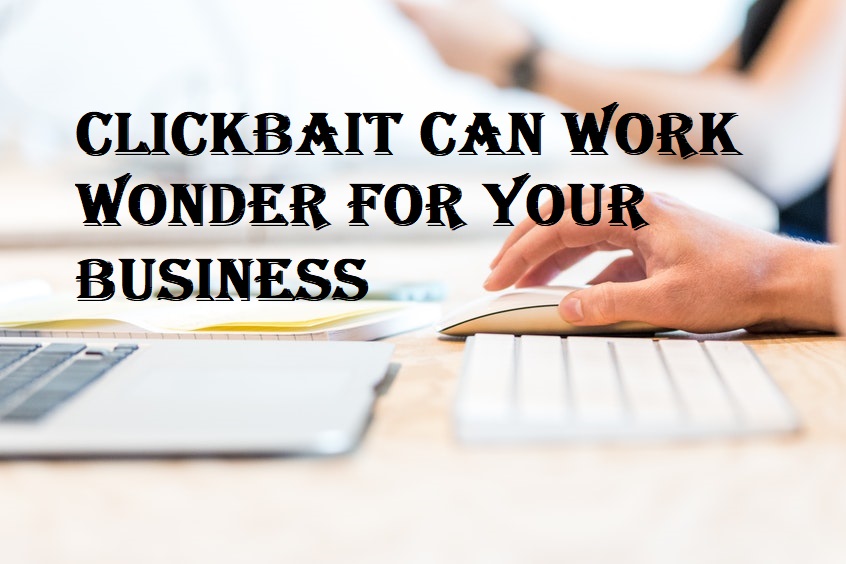 Hold on for a second! Clickbait can still work wonder for your business if you know how to use it correctly. Yes guys, it can drive you traffic and convert site visitors into potential customers. Shocking no! But it's true.
Wanna know how clickbait can work for your business? Keep reading this article below.
Let's dive in.
Do you think clickbait can be good?
Well, the perception that has been created about clickbait is that it is a negative approach which seldom associated with fake news. But it doesn't mean that all clickbait are bad. There are two sides of a coin. It is up to you which one you want to follow. As a company, if you have quality and solid products that can actually benefit your customers then using this approach isn't bad for you at all. Certainly, it is an effective approach if you do it in a right way. Obviously, if you surely want to grow the list of your customers then you can't provide fake news in a form of clickbait to your customers.
There are some approaches that you can use so that readers can click it on which includes:
➜ Clickbait requires an amalgamation of curiosity
➜ Make it funny so that readers can think about it
➜ Clickbait should sound good to be true
➜ Right use of clickbait can generate high revenue to your site
Moreover, the right strategy can work wonder for your business and the use of clickbait may also negatively affect your SEO ranking. So why to take such a risk? I hope now you want to know the right way of using clickbait in your website, right? Our next section will cover this part, just keep reading.
Some most useful ways of using clickbait in your website
If you want to bring traffic to your site and get more revenue then you should follow the given ways to use clickbait:
– Explain the benefit of your product in a single line
Yes, you have to state the benefit of whatever product or service you sale in a single line. Here you have to write from the customers' perspective. For example, there are many brands that write from their perspective that is 'We.' You must use the preposition 'I' because people care more about themselves than about you. In fact, if you state the benefits of your brand, it actually let users to click on it. Use headlines like 'why should I read this', 'why should I use this product.'
– Impose a question
Making your content user-friendly and engaging helps you get more site visitors to your site. Here content plays a biggest role. Make sure you write content in a way that drives users' attention immediately. Therefore, you have to add questions and answers into it that can related to readers and ooze out their interest in your product instantly. That's why you have to master over you content. If you want to get most out of your content marketing then write authentic and relevant content.
– Clickbait headlines shouldn't be misleading
Yes, this is the reason why users don't click on clickbait and thereby dislike it. There are many fake people or scammers that use clickbait for wrong purpose and for their own advantage. The headlines they use don't accurately represent the right content or information. So whenever you craft a headline make sure it delivers the right information what your readers expect. Don't just create headline that would compel readers to click on it and won't show any relevant information. This literally sucks at the end.
The bottom line
At the end I want to day that clickbait is seen as negative approach due to the misinformation it contains. But it can be an effective approach for you if you follow it in right and proper way. Don't forget that clickbait brings many advantage for your business such as increasing in page views, increase the number of shares, enhance your brand awareness, and many more. But the condition is you need to create clickbait in a way that not only entire readers to click on it but also present relevant information about your brand. If you have any query related to digital marketing then contact us and read out our work.
For reading more relevant articles, just subscribe to our website.
---