Best time to share anything on Social Media.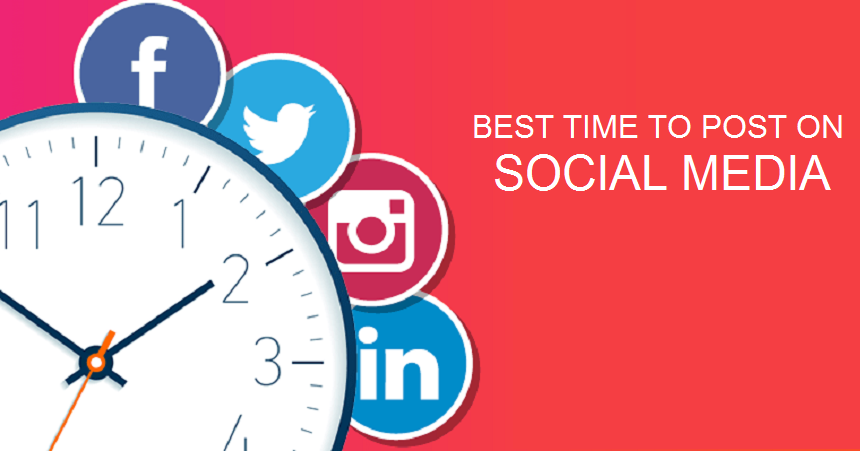 After reading the title of this article, you would be wondering, is there really a time to share posts on social media? Yes it is, if you will follow the time then you will get maximum engagement. Well, let me tell you about it. We all know what to post on which social media site, but what's the best time to share those posts is very important to know.
Significance of social media in marketing!
Social media plays a big role in digital marketing. As the new technologies are getting introduced, marketers are taking the help of social media platforms to enhance their brand presence in the market. I know there are many companies who are using social media apps such as Facebook, Instagram, Twitter, LinkedIn, and Pinterest to promote their products and services in the market by attracting more and more audience and generating sales leads. However, you might be getting the advantage of social media by posting your contents on it, but sharing a post on the right time will add more glory in your business.
So, in this article, I will explain to you when you should post on social media. Before I start discussing the time of various social media sites, let me tell you one thing that the best time to post on social media differs from site to site. However, it is also based on the types of audience you're engaged with and your audience is more active and likely to see your contents. That's why a well-timed post can get you more likes, comments, shares, and click-through.
Now, let's discuss the time of sharing anything on social media sites.
–Best Time to Post on Facebook
People log in Facebook irrespective of whether they are at home or work. We all drive time to see what's going on on Facebook. However, it depends upon your audience but you should consider the following points to know the exact time to share on Facebook.
For companies or industries, the best time is 9:00 AM, when people go online before starting their work.
Another relevant time is between 11:00AM – 12:00PM and 1:00PM – 2:00PM. It's the lunchtime when people are most active.
The hour between 3:00 – 4:00 PM is also a great time for you to post contents on Facebook. It is a promising time for B2C, B2B organizations. 
You can also post on weekends as it gets the highest level of engagement on Facebook.
–Best Time to Post on Twitter
Twitter is also like Facebook because people also use it when they are at work or at home. The timespan of each tweet is 18 minutes so timing matters a lot on Twitter. You need to make sure your posts reach to people in less than 20 minutes.
You can tweet around 8:00 AM -10:00 AM and 6:00 PM – 9:00 PM. It is the time of both mornings as well as evening. It can be a most engaging time for your twitteraties. 
For B2C companies, the productive time of Twitter is between 8:00 – 10:00 AM, and then 7:00 – 9:00 Pm.
To maximize your click-through rates and retweets, consider the afternoon time i.e. 5-6 PM.
The best tweets days for you are weekends. (same as Facebook)
–Best Time to Post on Instagram
Instagram is becoming a very important social media platform for visual business. This app is only available on mobile devices that mean it is used all day hours. However, it is also seen that many engage with content more during off-work hours than during the working days.
The best time for industries to post on Instagram are 1:00 PM and 5:00 PM, during lunch and at the end of a long-hour working day.
B2B organizations can post contents between 12:00 – 1:00 PM, 5:00 – 6:00 PM and 8:00 – 9:00 PM to get more clicks through rates.
And the best day to post on Instagram is Wednesdays and Fridays. These days get the most level of engagement.
-Best Time to Post on Pinterest
Pinterest is mostly used by female users and around 29% of users are active on this platform on a regular basis. Most people use Pinterest in the evening while sitting down to TV during their free time.
According to Fannit, the best times to pin are 2:00 AM – 4:00 AM and 8:00 PM – 11:00 PM.
The best days to post on Pinterest are Saturdays and Sundays. As these are the best free days for females.
Works hours are less popular for Pinterest users. Posting during working hours may result in less engagement.
–Best Time to Post on LinkedIn 
LinkedIn is specifically designed for business purposes. As it is the professional app, you must use working hours to post on LinkedIn. It is basically used by businessman, salespeople, recruiters, etc.
Best time to post on LinkedIn is between 8:00 AM – 12:00 PM and around 5:00 PM in the evening.
For a B2B brand, the best days to post on LinkedIn are Tuesday, Wednesday and Thursday.
For B2C brands, the best days to post on LinkedIn are Monday and Wednesday.
Final Words!
I hope, by now you have enough idea about above social media sites is best suitable for you to post on after knowing the exact time about them. For marketers or companies, it's very important for you to know the posting time of these social media sites if you're operating them for your business. If you post your contents according to the time of each social site then you'll be able to get more lead generation and enhance your company's brand.
So till then get in touch with us and happy posting!
---