Best digital marketing ideas to implement during the Coronavirus epidemic.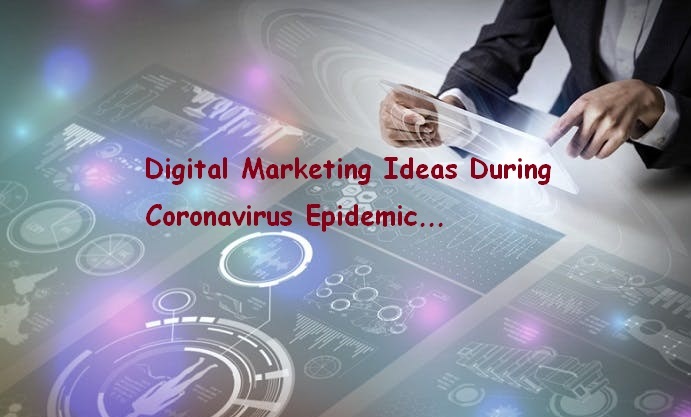 No matter how critical a situation is but you should never lose a hope. Can you guess what am I talking about here? Well, what else is left to talk about when the whole world is fighting against the indomitable disease Coronavirus. Guys, this pandemic has been wreaking havoc in the entire world since it first attacked China particularly. Every country has negatively impacted by it and the world has witnessed a great economic loss. It would not be wrong to say that we are now facing an economic crisis worldwide.
Talking about business, then marketers too have been impacted by COVID-19. But marketers can save their business if they adopt some profound digital marketing ideas to implement during the Coronavirus epidemic.
Worth digital marketing ideas to implement during Coronavirus epidemic
– Find your customers via social media
Social media is a giant medium in the digital world to connect with people worldwide. Right now the whole world is dealing with the Coronavirus outbreak and it's an opportunity for brands to stand out during a difficult time. People are now stuck at home, with the help of social media; you can try to connect with them to contribute to the area of the food bank and assist people for grocery shopping. Folks, you need to promote good deeds with social media marketing to help build brand awareness.
– Make sure your business easily found online
Running a digital marketing business without having a strong presence is not worthy. The situation we're facing right now enabling people to shop online. So if your business doesn't have a good online presence then you won't be able to survive. You need to make sure that the visibility of your business is enough approachable. Folks, it is not the time to be hidden, it is the time to use SEO and improve your visibility on Google. Understand one thing, anything online and visible right now will be consumed more.
– A clever idea right now is Pay Per Click (PPC) Advertising
Now the people are locked inside their home so the only thing they have to do is using mobile phones. Therefore, PPC is a smart approach for a business to connect with its customers worldwide. Furthermore, it's a good chance to save money within your digital marketing budget. So, here you have an opportunity to gain back the lost market share from others during the critical situation.
– Use local SEO strategies to optimize your website
A solid online presence of business highlights the authority and transparency. SEO is as important you're your customers' online reviews. Therefore, you need to make sure that your business is using local SEO strategies to optimize your website for 'near me' searches. Your customers should be in your geo region to easily catch you online. One thing you also make sure that is positive customer reviews. During this epidemic, online reputation management is important to connect with customers.
– Provide customers a unique special offer
This is a unique and eye-catching offer you can use to attract a large number of customers. Offers are an opportunity for you to display your customers a base by offering special discounts that will help them fight the economic crises. This step will also keep your revenue flowing. Therefore, many people now are looking for discounts and offer to save their money during a critical situation. Thereby you can show your offers and discounts through social media and Pay per Click (PPC) advertising.
Over to you!
We all know how critical and serious the situation is right now. And if marketers cut themselves socially and are more digitized then they can save their business from being fallen drastically. Try to keep yourself connected with your customers digitally via the above-mentioned ideas. Now brick and mortar stores are locked down are there is no chance to go out. The only solution left is 'Online shopping.' So be digitized and be authentic and don't try to extra charge your customers in the name of Coronavirus.
For more updates get in touch with us till then keep reading and keep sharing.
---