4 ways to retain your customers using Instagram business account!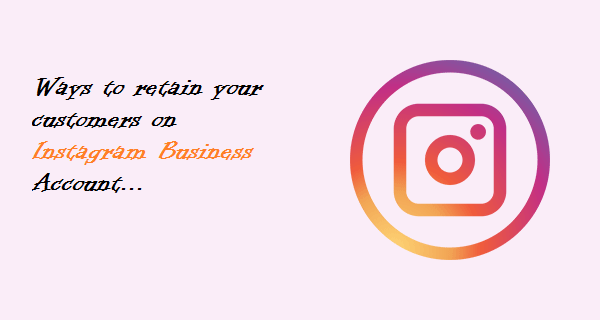 Customers are what you call "God" of your business, right! Without customers retention, you can't think of running your business successfully. Businesses take help of social media platform to retain their customers.
In this article, I will tell you about one such social media platform i.e. Instagram. Instagram is becoming a marketing tool for B2B companies. And more and more businesses getting migrate to this platform to promote their products and services.
You can learn below how you can retain your customers using an Instagram business account. So let's dive into to learn the ways to retain your customers.
4 ways of customer retention on your Instagram business account.
Following 4 ways will help you retain your customer on your Instagram business account.
1. Be Active on Your Instagram Account
The major way to keep your customers retain with you is to actively engage in your Instagram business account. If your customers forget about you, you can't retain them. You need to have a good presence of yours on your Instagram account. This is how people will know about your company, its brand, products, and services.
You can increase your customer retention rate by announcing your new products, services, offers, and other updates on your account. It's a great way to generate buzz around your Instagram account.
2. Always Look for Emerging Trends
If you are interested in retaining your customers then you need to find the emerging trends in the market to attract your customers. Trends become important to find out what kind of problems your customers are having – as it relates to your niche – by looking at trends in the community.
You need to keep your eye on trends so that you can develop products or services that extend the customer's retention by offering them something new. It will be hard for you to retain your customers if you sell one or two products online and that too never change.
3. Be Authentic and Honest
It might sound rough at first, but trust me there are lots of people out there who have been burned by businesses before because of their faulty products, fake services, unknown charges, confusing return policies, etc. and that is why people quick to lose trust nowadays.
So you need to make sure that you provide your customers with honest experience when they are shopping from you. And this is the best way to retain your customers in the long run. You need to be authentic while updating any of your product or service on your Instagram business account. Be clear with your products and shipping rates. Never try to bump your prices too high initially.
4. Use Instagram as your Customer Service Tool
The reality is customer retention depends on customers experience or on their satisfaction. According to research, nearly half of customer retention (42%) depends on customer experience. And the fact is if your customers are unhappy with the services that you provide, why would they come back for a second visit?
That's why if you want to retain your customers, make sure you provide them authentic services from your side. And if you get compliant, don't ignore it. You can put a Contact page on your Instagram account.
Conclusion!
Instagram is an exceptional business marketing social media site. And you can use it to retain your customers for future also. All the above customer retention tips for your Instagram business account show your customers that you are keeping them in mind and appreciate their business.
Although there are various other ways to retain your customers on Instagram but above mentioned 4 ways are the major that I have highlighted. Make sure you keep these points in your mind to retain your customers on your Instagram account.
For more info and any kind of updates get in touch with us till then keep reading and keep retaining your customers.
---