10 upcoming SEO trends for 2020.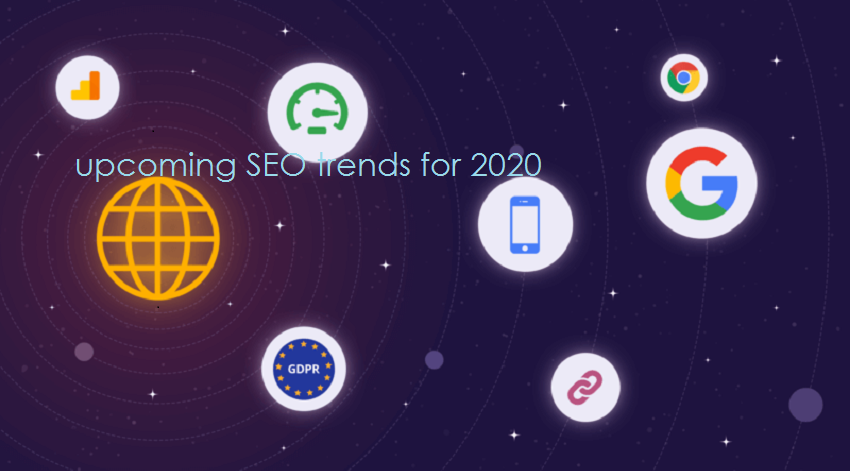 SEO is a major part of the digital world. If you're an expert in SEO then you know that it's not something that you learn once and leave. No, it's not like that. SEO is dynamic in nature. It's constantly evolving as time is passing. The best SEO techniques are always changing which are incredibly fast-paced.
Additionally, competition among marketers is continuous to increase and new websites are being launched. So, it's high time to think about your content marketing strategy and invest in SEO. Websites are required to meet some specific requirements set by search engines like Google.
To make your SEO strategy much stronger you must focus on some of the upcoming SEO trends in 2020.
So, let's dive into the pool of SEO trends for 2020.
I'm going to mention here top 10 SEO trends for 2020 so just read them out below
1. Voice Search
With the extension of innovative smartphones, voice searches are becoming a popular trend among internet users. The voice search can be done on home voice assistants like Amazon Echo, Samsung Smart, TV, Voice Pod, etc. It is expected that increasing popularity of voice search may benefit sites and pages that write in brief, concise method, and giving users the information which they need. And also once you optimize your site for voice search it can help you generate more traffic to your website.
2. Secured websites are a must
One of the most popular trends nowadays is user security. If a user doesn't feel safe while visiting your site, he might not visit it again and then you lose chances of getting more traffic to your site. You must make your site safe and secure for your visitors for this you need to enable HTTPS protocol for your site. HTTP gives website uses a secure connection that is encrypted as well as authentic. Google has implemented HTTPS to provide its users with secure browsing experience.
3. Videos – a source of information
We all know that videos are not just the source of entertainment but also used for information. Videos have made their space on the internet. According to Google, 6 out of 10 people would rather watch online videos than television. In this way, we can say that YouTube has become a new TV for all of us. So, to reach more people you must optimize your videos for search users and SEO. Make sure you use appropriate headlines and keywords in the description of your video box.
4. Optimizing high quality content
Contents are very important for your site to get a good rank on the search engine results page. The quality of content depends on you that what keywords you're adding, how relevant it is for your audience, is it authentic or not, this all you need to focus on while producing content. Creating high-quality content is an essential element of effective SEO strategies. Your users want educational content that is relevant, helpful, and authentic.
5. Artificial Intelligence
If you ask somewhat is the most important technology today, anyone would say Artificial Intelligence (AI). This technology is widely being used by industries in a large number to produce unique, personalized experiences of customers. Big companies such as Google use AI to deliver better search results to its users. Artificial Intelligence (AI) eases out the work of marketers as well as their customers by providing authentic and relevant information. Now you can see Google which is a big company applying these technologies right now.
6. Accelerated Mobile Pages
It's very easy to browse on PC and get information with fast loading pages, but optimizing pages for mobile is also very important. Almost 50% of the world's search is done on mobile devices. Users want faster results without having to click on another page. Images and videos often appear higher in mobile searches. So accelerating mobile pages will make your users experience more enjoyable and more effective.
7. Optimizing SERP appearance
Every marketer wants as many people to click on their ads so that their SERP (search engine result pages) design can be optimized. Getting a good SERP of the website, it's important that you optimize it as much as possible. It is only possible when you add favicons, ad symbols, and website titles. This will ultimately increase your click-through rates and enhances your SERP appearance.
8. Structured data
Every organization wants its data should be well-maintained and well-managed. Data should be present in order. That's why Google is updating its initial guidelines and adding support for new types of structured data which includes FAQ pages, fact-check, and more. It must be clear that Google is very much interested in extracting data from your pages.
9. Backlinks for SEO
Getting a good rank on Google is all about having a good combination of signals and backlinks. As the rank of your site accelerates on Google, you automatically get links and the site hits even more growth. However, many people avoid using links and then they lose the advantage of having a good rank. Make sure whatever links you're using they must of quality. Don't spam or pay for your links. You can get links from social media, YouTube, citations (local businesses) and from guest posts.
 10. Knowing your target audience
The audience is the major concern for every website operator and it also ensures the newer trend in SEO. Every online business needs to create content that is relevant, authentic, and informative. For an eCommerce portal, optimizing its content for search engines is essential. You must create content that buzzes around your audience and meet their requirements.
In short, the above-mentioned trends that you have read right now are the best ones in SEO for 2020. As you know that SEO is moving very fast and it's very important for businesses today. One thing you must keep in mind is that you always focus on creating relevant content for your audience this is what will fetch you more quality traffic to your site.
Use the tips above to get ahead of your competitors in 2020 and beyond. For more information or any kind of SEO services get in touch with us.
---